"Vegetable stock has light smooth aromatic flavor. Vegetable stock can be used poaching fish or shell fish. Essence can be used instead of water for vegetables, soups, stews or to braise some meats."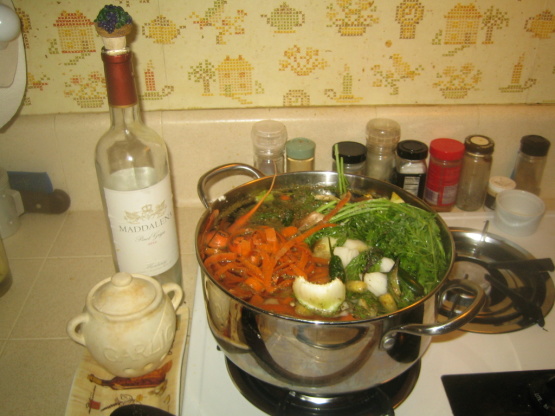 Essence Vegetable Stock
1 recipe photo
Directions
In a 12-quart stock pot add olive oil, salt, pepper, vegetables, garlic and bay leaves. Sweat vegetables for 10-minutes. Do not let the vegetables brown.
Add fresh herbs and spices. Cover with cold water, bring to a full boil and reduce to a simmer uncovered for 15-minutes.
Add Chardonnay wine, Rice wine vinegar and simmer for 20-minutes.
Remove from heat and let cool. Strain stock with a fine-mesh sieve. Cool stock with a ice bath, cover and refrigerate. Stock will keep for 1-2 days.
Chef's note: You can add any vegetables you have to the stock.