"Falafel is a patty made from beans and chickpeas. It's a popular fast food item in Middle East countries and is recognised here in Australia. This recipe comes from a cookbook called Middle Eastern Cookbook by Maria Khalife' the author advises it's an Egyptian recipe. Authors suggest is to serve the falafel with pickles, pita bread and tahini dip. We like eating it with a yoghurt garlic mint sauce or a chilli sauce. I had trouble finding dried broad beans in my region so I used lima beans feel free to do this at your discretion however flavour will slightly change. Resting time is included but not soaking beans"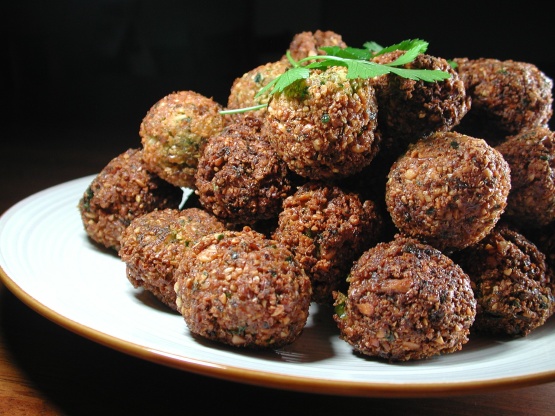 Directions
In a bowl add broad beans and chick peas then pour water into the bowl to cover the beans. Cover the bowl with cling wrap and all them to soak overnight.
Drain the broad beans and chick peas then remove and discard shells.
Place beans in a large food processor, add parsley, mint, coriander, onion, garlic, dried coriander, cumin, turmeric, cayenne and salt. Process until it's all chopped up and mixed.
Transfer the mixture to a large bowl and add bicarbonate of soda. Knead the combine thoroughly, cover with cling wrap and leave to rest in fridge for about one hour.
After one hour make patties. To do this mould the mixture into walnut size ball and then flatten it slightly, place it on a tray. Repeat step until mixture is complete.
Heat the vegetables oil in a heavy-based frying pan. Once heated gently lower the patties into the hot oil in batches, (patties will be delicate and may not hold its shape). Deep fry for about five to six minutes, once cooked place them on clean paper towels to drain oil. Repeat step until all patties have been cooked.
Serve the falafel either hot or cold and enjoy.