"I found this recipe in a cooking magazine that I pick up occasionally. My family loves these with pasta, and they're great in meatball subs with fresh tomato sauce (recipe posted separately). No frying required, either."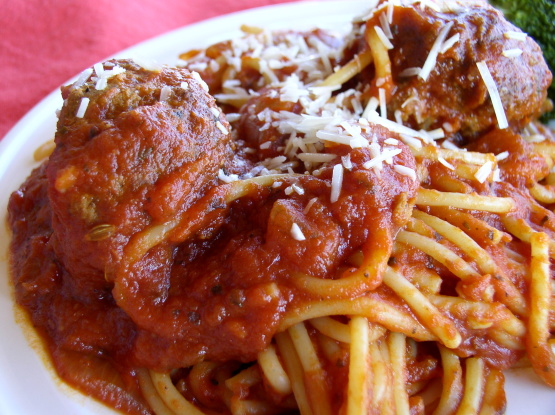 Family Favorite Basic Meatballs
9 recipe photos
1

cup unseasoned breadcrumbs

3⁄4 cup parmesan cheese, finely grated (Romano may be substituted. For best flavor, splurge on a chunk of cheese rather than use the caniste)
1⁄2

cup whole milk

1⁄2 cup beef broth (the low sodium variety is recommended)
1⁄2 cup chopped parsley (fresh, not dried)

3

eggs, beaten

2

tablespoons dried oregano

1

tablespoon garlic, minced

1

tablespoon kosher salt

1

tablespoon ground pepper (I recommend fresh ground for better flavor)

1

teaspoon dried basil

1

teaspoon crushed red pepper flakes (I usually cut this in half since most of my family is very spice-sensitive)

1

pinch nutmeg (fresh grated is best)

2

lbs ground chuck (80-85% is good. I don't recommend using very low fat beef for these, they won't have the right textu)

1

cup beef broth
Directions
Preheat oven to 450 degrees F.
Stir together first 13 ingredients (bread crumbs to nutmeg) in a large bowl.
Add the meat and mix thoroughly (I use a fork to mix, to prevent overhandling the meat). Shape meat mixture into 2-inch balls, approximately 1 1/2 oz each by weight (I like to use a #30 scoop to portion them out, then I roll them into balls by hand).
Spray a shallow pan (such as a baking sheet with an edge all around) with nonstick cooking spray. Place meatballs on the prepared pan, taking care not to crowd them or let them touch).
Pour the 1 cup of beef broth into the bottom of the pan (make sure bottom of pan is covered). Bake for 25 minutes, or until meatballs are cooked through.
Reserve the pan juices to make the tomato sauce (recipe posted separately).