"This recipe is supposed to be the same as the famous Butler Hot Dog Shop. To get the full effect grill the hot dogs and steam the buns, then top with the chili sauce pickle and onion to get that "just like the hot dog shop taste" It's also great on fries."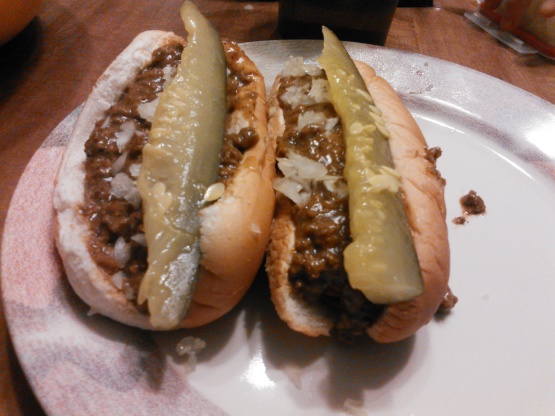 Famous Butler Hot Dog Shoppe Chili Sauce
1 recipe photo
Directions
Brown and chop the ground meat in a 4 quart.
pan.
Drain off excess grease.
Add each of the spices, one at a time, and stir after each one.
After all the spices are in the mixture, it should be a pastey consistency.
Add the ketchup; stir in the water.
Bring to a boil, stirring constantly.
Keep the heat low and simmer for 2 hours.
Add the flour and water mixture.
This mixture will blend easily if you mix in your blender before adding to the rest of the sauce.
The excess sauce may be frozen.
This sauce is supposed to be from the famous hot dog shop in my area.