"I live in Florida and it is difficult to make a non-runny blueberry pie due to the humidity, but this recipe is perfect. I got this recipe through trial and error of 5 different published recipes. The filling is dense enough so that little loose liquid is present, but you still feel like you are biting into whole berries when you eat it. This fixed my problem of getting a pool of liquid in the bottom of my pie shell. I recommend using only fresh blueberries. Use a 9-inch deep-dish pie plate. Regarding the crust, the store-bought frozen crusts did not work properly for me. They either didn't bake on the bottom or resulted in an overflow of pie liquid into the bottom of my oven. I recommend the Pillsbury brand rolled pie crust dough found in the refrigerator section of the grocery store (by the biscuits/crescent rolls). These bake nicely, are easy to work with, and have an appropriate amount of moisture. Of greatest inspiration for the filling was from http://www.pickyourown.org/blueberrypie.php"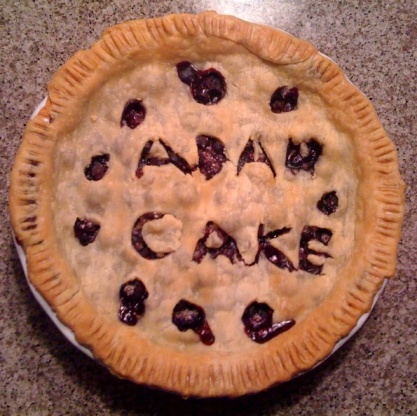 Famous Fresh Blueberry Pie
1 recipe photo
Directions
Preheat oven to 375ºF.
Remove the 2 pie crust dough rolls from the refrigerator to warm to room temperature per package instructions. The one I use says to leave them out for approximately 10-15 minutes.
Wash the berries and dry them well. I use a towel and lightly roll the berries across it to make sure they are dry. Set aside.
Using a large mixing bowl, combine the sugar, tapioca, and cinnamon. Mix well.
Add the water and lemon juice to the sugar mixture, stir together until the resulting syrup is an equal consistency.
Add the berries to the bowl, lightly fold them into the syrup to coat them.
Line the bottom of the 9" deep-dish pie plate with 1 pie crust. Make sure to lightly press down to seal it to the plate, and push out the bubbles. Allow the edge of the crust to overlap the rim of the pie plate.
Fill the bottom crust with the berry mixture, allow about 1/2 inch of vertical space between the top of berry filling and the rim of pie plate. Thus, you may not use all of the berry mixture.
Cover the filled pie plate with the second crust, use your fingers and/or a fork to seal the edges of the top and bottom crusts together at the rim of the plate. Trim the excess off the edge.
Use a knife to cut holes in the top crust to ensure the pie filling is ventilated. This can either be as elaborate as a lattice or simply just round holes spaced evenly over the surface. This is your chance to be creative.
Bake at 375ºF for 1 hour or until filling is bubbly and crust is golden brown.
Allow to cool on rack before serving, and enjoy the pie my husband calls his "favorite cake!".
get the genius kitchen app.
Watch on your iPhone, iPad, Apple TV, Roku, or Fire TV.
Learn More