"Don't throw away that watermelon rind! Save it for my pickles! Just have your washed watermelon cut into one inch wide slices and serve only the pulp, cutting the rind into one inch squares (or if you are ambitious, different shapes). Squares are easiest. Make sure you peel the rind and trim it of most of the pink. I like the seedless watermelons because the rind is nicer but any watermelon rind will do. This pickle is done in easy stages over three days. I knew the recipe was fantabulous when one of my friends drove home with a pint jar on the seat of her car, ate all of the pickles and drank the syrup before she got home and then called me begging for more. I hope you try this recipe now that picnic season has arrived and watermelons abound. Canning is not hard, you just have to follow the directions perfectly. It is a fun and rewarding kitchen hobby and you will have so many complements when you give a home-canned item as a gift. Make sure you read through the recipe before you begin. If you have any leftover syrup just can it along with the pickles. If you have any questions just Z-mail me!"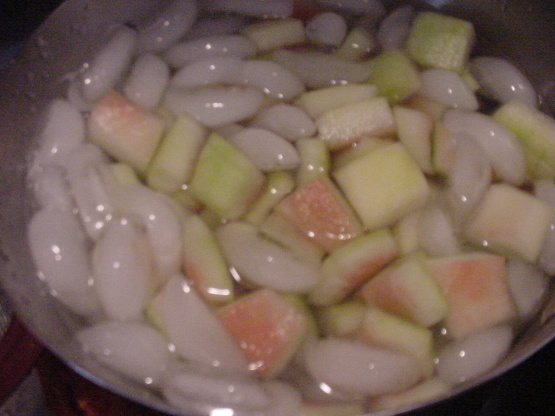 Fantabulously Easy Yummy Crispy Watermelon Pickles
1 recipe photo
READY IN:

72hrs 35mins

SERVES:

36

YIELD:

6

Pints

UNITS:

US
Directions
ZAAR would not let me enter the watermelon rind no matter how I tried so it is the rind of two ten to twelve pound seedless watermelons. Ugh I am so frustrated!
DAY ONE: Wash and carve watermelon and cut rind into one inch squares. Make sure you peel the rind carefully with a veggie peeler because there is nothing nastier than choking on an unpeeled piece of rind. Mix salt into the water in a large non-reactive pot and add the watermelon rind. Cover and let stand 24 hours.
DAY TWO: Drain watermelon rind and rinse well. Wash the pot and add the watermelon rind and a gallon of filtered water and lots of ice, at least 4 cups and let stand for two hours. Drain again and pick out the ice. Return the watermelon rind to the pot and cover with boiling water and cook until tender enough to pierce with a wooden skewer, about ten to 12 minutes and then drain well. While the rind is draining wash the pot and prepare the syrup. Put the spices in a spice bag or tea infuser or else you will have to fish all of it out later on. In your rinsed pot, combine the vinegar, sugar, spice bag, juice and rind of the lemon and bring to a boil. Add the rind to the syrup and cook ON LOW until the rind is transparent. This can take a while so keep checking for that transparency. When the rind looks transparent put the lid on the pot and take off the heat. Don't touch it for 24 hours. If you like less spice you can remove the spice bag at this time. I leave it in for the full 24 hours.
DAY THREE: Remove the pickles and let them drain back into the pot. Reserve the syrup and bring to a boil. Pack the pickles into (about) 6 sterile pint jars and pour the boiling syrup over the pickles, evenly between the six jars to about 1/4 inch from the top. Cap and adjust bands and process in a hot water bath for 5 minutes from the time the water returns to the boil. Ball Blue Book suggests ten minutes but my old recipe was 5 minutes. I think the 5 minute bath is a crispier pickle and I have to tell you I have never, in the past 35 years, had a jar explode in the pantry, but use the processing time you feel comfy with.
DAY SIXTY: Pickles are ready. OK, I start eating them as soon as I hit day three -- So these pickles are made all summer long and enjoyed all year round.
REALLY EASY METHOD: If you are not a canner you can cool the pickles on your counter and put the jars in your refrigerator and they will last one month.
get the genius kitchen app.
Watch on your iPhone, iPad, Apple TV, Roku, or Fire TV.
Learn More