"The title says it all. This is so good. This is a sweet bread, great for breakfast or snack. I must warn you, it touched the top of my breadmaker. It is too good not to share. I changed another recipe and added some things. My additions were the raisins and cinnamon. It origially was suppose to make a 1 1/2 lb. loaf. I didn't think the raisons and cinnamon would have add that much, but I guess it did. You might want to adjust to make a 1 1/2lb. loaf because I will list this as a 2 lb. loaf. It is so good! It knead the heck out of the raisins so there is little bits all through the bread. Chewy, sweet and moist. I used sugar free syrup to cut down on sugar. I hope you enjoy it as much as my family does. Please leave feedback."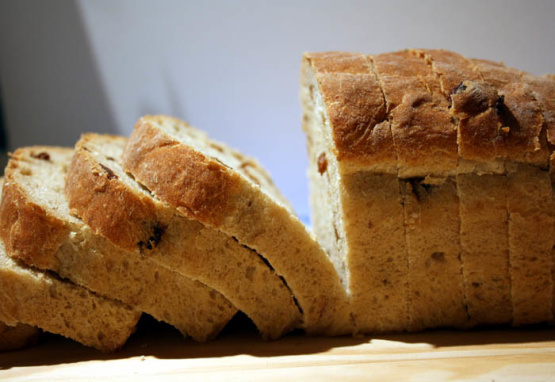 Fantastic Cinnamon Raisin Bread
3 recipe photos
Directions
In bread machine pan, place ingredients in order given, except raisins and yeast.
Circle inside of pan with raisins.
Make a well in flour and pour in yeast.
Bake on white cycle.
*** My dough looked fine when kneading and then look almost like a batter when it started to rise and was very sticky. I had to leave the house at this point and expected it to be a flop. When I came home and it had touched the top, I thought it was going to be raw and would have to be thrown away. But to my suprise it tasted fantastic.