"Since biscotti is a huge favorite at my house I am always searching for good biscotti recipes, this one is fantastic! --- if you make biscotti and love chocolate, then this is a recipe you should try! --- since the batter is quite stiff this dough is best prepared on a heavy-duty stand mixer, the recipe can be completely doubled to make four logs, they will keep tightly covered at room temperature for one week, or frozen for one month, feel free to use any other chopped nuts that you desired, walnuts work great with this also :)"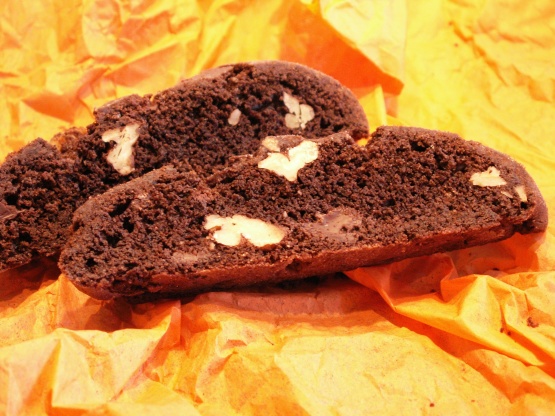 Fantastic Double Chocolate-Pecan Biscotti
6 recipe photos
Directions
Set oven to 350 degrees.
Butter and flour a large baking/cookie sheet.
In a small bowl whisk together flour, cocoa powder, baking soda and salt.
In another large bowl with an electric mixer beat together 1/4 cup plus 2 tablespoons softened butter with 1-1/4 cups sugar until light and fluffy (about 5 minutes).
Add in eggs and beat until well combined.
Stir in flour mixture to form a stiff dough.
Stir in chopped pecans and mini chocolate chips; mix to combine.
Divide the dough in half or you can make 4 smaller logs for easier handing and cutting if desired).
On the greased baking sheet, shape into two slightly flattened logs (about 12-inches long and about 2-inches wide).
Sprinkle with confectioners sugar.
Bake logs for 35 minutes or until slightly firm to the touch.
Cool the logs on the baking sheet for 5 minutes, then remove logs to a cutting board.
Cut the logs diagonally into about 3/4-inch slices.
Place back on the baking sheet.
Return to oven and bake for about another 7-10 minutes (depending on how crisp you like them).
Cool on a rack.