"Seems kinda pointless to me, to go to all the trouble of making & stuffing the 'cotti's and then NOT have meat in the sauce. So I adjusted this found recipe from *Grandma's Kitchen* recipe cards, to include ground beef in the sauce. No complaints from the Peanut Gallery--and they're SO discerning an audience!"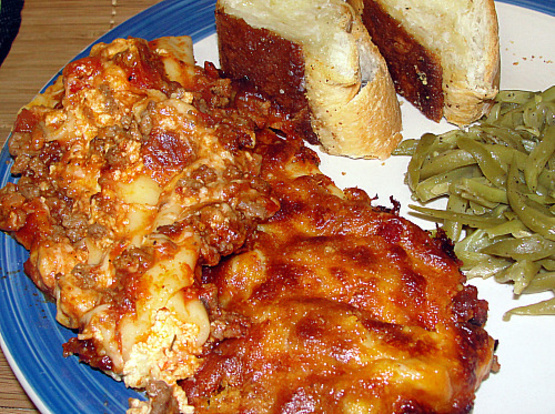 Farmhouse Manicotti With Optional Meat Sauce
1 recipe photo
Directions
Cook, rinse & drain manicotti as per package directions.
While that is cooking, brown the meat in a medium frying pan; rinse & drain for low-fat applications!
Preheat oven to 350; grease 13x9 pan; set aside.
Mix meat and spaghetti sauce; spoon 3 cups of sauce into bottom of greased pan; set aside.
In a medium bowl, combine THREE cups mozzarella with ricotta and basil.
Spoon mixture into a ziplock bag, cut off one corner, squeeze into pasta shells; lay finished shells into sauce in pan.
After all shells have been filled and nestled cutely together, pour remaining sauce over shells.
Sprinkle with remaining mozzarella.
Bake for 15 minutes; sprinkle with parmesan; bake for 10 more minutes.
Serve immediately. Yum!