"DH & I love cabbage, but cabbage heads are very lrg here in Iceland & we grow weary of the endless leftovers when the meat of that 1st meal disappears. So I am always looking for a creative way to make a new & tasty meal of them. Today I decided to make a simple cabbage soup & searched for a recipe to use what I had on hand. Altho there are a ton of cabbage soup recipes on RZ, none of them were exact enough to make & review in good faith. Along the way, however, I found a unique recipe & decided to use its concept for my soup. That recipe was
Braised Coconut Cabbage
by Sue L & I just happened to have a cup of coconut milk I needed to use. Was it a pure coincidence or a sign of fate? I decided to look upon it as the latter & this recipe was born. The ingredients are all pre-cooked & the amts I listed are meant to be guidelines based on what I had to work with, so feel free to vary them to suit your particular needs or preferences. *Enjoy* !"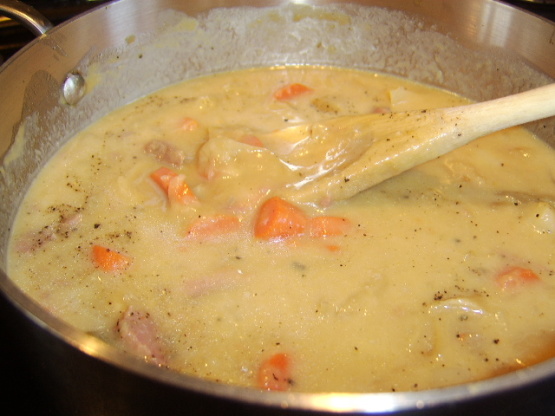 Fated to Happen Cabbage Soup
2 recipe photos
1⁄2 head cabbage (lrg size, pre-cooked & cut in bite-sized pieces)

1

large onion (red or white, rough chopped & pre-cooked with cabbage above)

2

cups vegetable stock (or chicken stock or broth)

1

large carrot (cut in coins & cooked, may use baby carrots cut in 1/2 - 1-in pieces)

2

small potatoes (cooked & cubed, use more as desired)

2

smoked pork chops (boneless, cooked & cubed, or use = amt of ham)

1

cup coconut milk

salt & pepper (to taste)

2

teaspoons chives (fresh-snipped or dried, optional garnish)
Directions
Using a blender or hand-held blender, puree half of the pre-cooked cabbage & onion mixture w/the vegetable stock (or chicken stock if using). Transfer the puree mixture to a Dutch oven.
Add the other half of the pre-cooked cabbage & onion mixture + the cooked carrot, potato & smoked pork cubes (or ham if using). Bring soup to the starting point of a gentle boil, reduce heat to simmer & simmer 6-8 minutes.
Add coconut milk, stir to combine w/soup & remove from heat. Taste & season w/salt & pepper per taste preferences. You are good to go, so serve it up w/crusty bread & butter & garnish top w/chives as desired.
Note 1: Unsweetened vs sweetened coconut milk? While Sue L's recipe specified unsweetened coconut milk, mine was lightly sweetened & I found welcome the bare hint of sweetness it gave to the flavour.
Note 2: Using the puree mixture w/the coconut milk makes this soup thick & hearty. If a more liquid texture is preferred, use additional stock to reach your desired consistency.