"My great aunt taught me how to make the best homemade buttermilk biscuits. I would stand and watch her make them everyday when I was a little girl. She made a batch everyday and I would have at least two with my dinner. There's nothing better than having a good tomato biscuit later or even as a snack. She had a special way of making them and everyone always looked forward to her biscuits."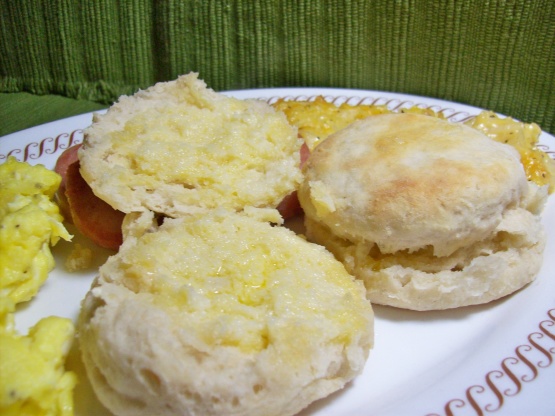 Favorite Homemade Buttermilk Biscuits
3 recipe photos
Directions
Measure out buttermilk in measuring cup and let sit for 5-10 minutes, add a pinch of baking powder and stir well.
Preheat oven to 450°F.
Measure out flour with 1/4 tsp of baking powder and sift with a sifter into a bowl.
Add Crisco shortening and cut into flour well.
Make a well in middle of flour mixture and pour buttermilk in slowly.
Flour your hand, mix together flour mixture and buttermilk well, forming a ball and turn out onto a floured surface.
Clean hands (scraping off all dough).
Roll with a floured rolling pin or you can use your hands to flatten out, to about 1/2 to 1-inch thick.
Cut with a large floured biscuit (round) cutter or use the rim of a floured round drinking glass.
Place on a greased baking sheet and bake 12 to 15 minutes or until tops are lightly brown.
NOTE: You can use a small biscuit cutter depending on how many biscuits you want to make.