"Evelyn I hope that you like this recipe. I created it and I am dedicating it to Evelyn/Athens as a thank-you for your efforts in RSC7. The recipe suggests 6 oz burgers but make them smaller if you wish. You may either pan fry or BBQ the patties. The Feta needs to be pan fried along with the mushrooms. Butter your buns if you wish."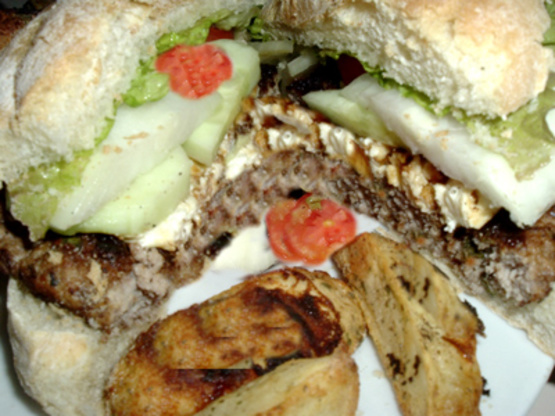 Feta and Mint Lamb Burgers (Pan Fry or BBQ)
2 recipe photos
Directions
Mix the mint, oregano,chili salt & pepper into the ground hamburger.
Form into 4 patties.
BBQ instructions:.
Lightly grease your grill,.
Cook over medium heat for 4 minutes, flip very carefully and finsh cooking the other side apprx 5 minutes.
During the last 5 minutes cooking brown the feta in a lightly buttered fry pan over medium heat - cook the mushrooms in the same pan.
Pan Fried Instructions:.
With the heat on hi gh brown one side of the burgers, carefujlly flip, turn the heat to low medium, add mushrooms to the pan and cover. cook apprx 8 minutes.
Flip the burgers once more and add the feta cheese to the pan, cover.
Cook for just a minute or two until the feta starts to melt and is slightly brown.
Build you burgers by putting the burger on the bun with the feta cheese, add the other condiments & serve.