"This is a very flavorful pasta dish that I happened to come across. And for those of you who don't know Italian, 'Al Aglio' (al AH-lyoh) means 'with garlic'."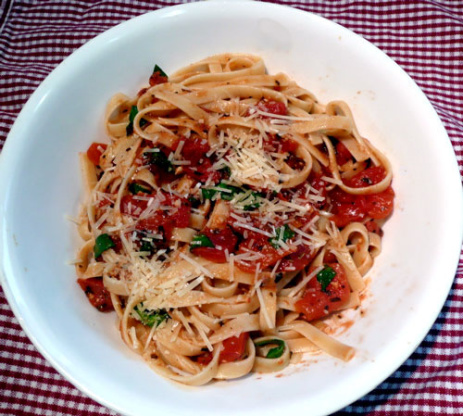 Fettuccine Al Aglio
1 recipe photo
Directions
Prepare pasta according to package directions, omitting salt. Drain and return to pan.
Meanwhile, heat oil in a large skillet over medium- high heat until hot. Add garlic and red pepper; cook and stir 1 to 2 minutes or until fragrant.
Stir in undrained tomatoes.
Bring to boil; reduce heat to medium and cook 5 to 7 minutes or until sauce is thickens slightly.
Toss cooked pasta with tomato mixture and basil in pasta pan.
Place in serving dish and sprinkle with cheese.