"One of my favorite Christmas treats, and very popular with the Finnish community with coffee. I know,you're thinking prunes..ewww...but they are very good. (the bake time does not include the overnight dough chill time)."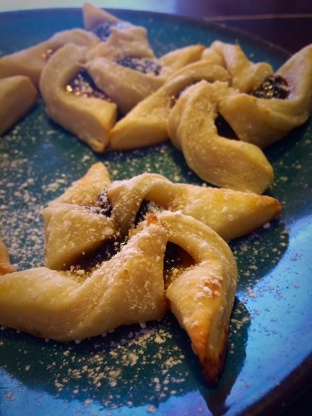 Finnish Prune Tarts
3 recipe photos
Directions
Blend dough ingredients with pastry blender.
Add milk to soften as needed.
Should make into 4 small or 2 large balls.
Cover and chill dough overnight.
Cook the prunes in water until soft.
Drain.
Press prunes through wire strainer or pureed in blender.
Add the sugar and mix well.
Roll out dough into large square in order to cut into 3 inch square Place a mound of filling in the center.
Split each corner from the top to within 1/2 inch of the center.
Fold one half of each corner to the center-- to form a star or pinwheel.
Place on ungreased baking sheet- you may sprinkle croase grain sugar over tart.
Let stand 10 minutes before baking.
Bake in hot oven 400*F for 7 to 10 minutes- until light golden brown (they should be realitively pale).
Remove and cool on rack.