"I found this cake on a food blog (http://alladither.typepad.com/halfassedkitchen/) and had to try it. As a college student, I'm always looking for quick, easy recipes that can be made without a lot of fuss, and this is PERFECT. No oven necessary-- just a few basic ingredients, a microwave, and a coffee mug. Delicious and simple!"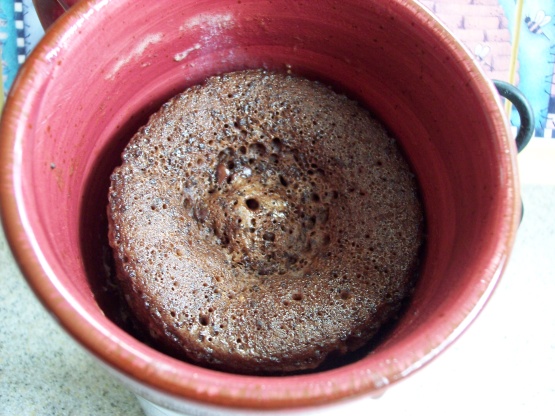 Five-Minute Mug Cake
2 recipe photos
Directions
Combine the flour, sugar, cocoa powder and salt.
Add the egg, milk, and oil and mix thoroughly.
If desired, add chocolate chips (coat with flour first) to the mixture.
Coat the inside of a large mug with cooking spray. Pour the cake batter into the mug.
"Bake" in the microwave on the highest power for 3 minutes, then let it sit in the microwave for another 2 minutes to set up.
Dump the cake into a bowl or onto a plate and enjoy! Top with ice cream for a special treat.