"This recipe is one i have tweaked and re-tweaked over time to ultimately perfect my favorite 2 components in a pizza. A deliciously flaky thin crust, and a tomato sauce similar to that of a traditional Chicago deep dish pizza. Rich and sweet. Being from Chicago, it's only natural."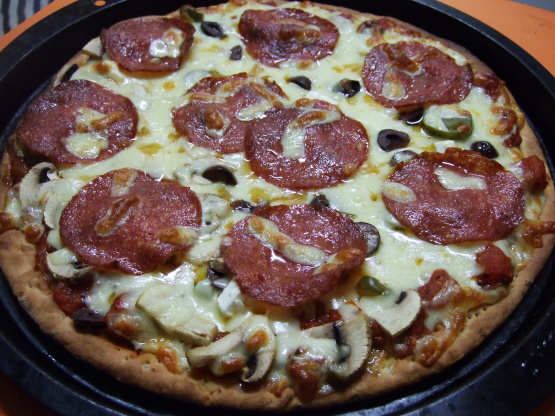 Flaky Thin Crust Chicago Inspired Pizza
2 recipe photos
Directions
Whisk together the flour, sugar and salt in a large bowl. Add the cubed, chilled butter and using your fingers, work the butter into the flour mixture until it is mostly incorporated, you want to have small butter lumps. Add the chopped garlic. In a large measuring cup, combine the warm water and instant yeast. Add to the flour mixture and, using a fork, combine until the mixture is evenly moistened. Knead the dough in your hands or on a lightly floured surface for one minute or so until the dough is smooth. Divide the dough in two, shape into balls, cover with a damp kitchen towel, and let rest for at least 30 minutes.
While the dough sits, you can start on the tomato sauce. In a medium saucepan, heat the oil over medium-high heat. Add the garlic and cook, stirring for about 30 seconds. Add the herbs, salt, and both black and red peppers, and cook, stirring, for another 30 seconds. Add the tomatoes, wine and sugar, and bring it all to a boil. Lower the heat and simmer, stirring occasionally, until it thickens, usually 20 to 30 minutes. Remove from the heat and let sauce cool before using.
Preheat oven to 500 degrees F (or as hot as your oven will get). Seriously, the hotter the oven, the better. If using a pizza stone, preheat it along with the oven.
It's time to shape the dough. Take one piece of dough and shape into a 12-inch circle on a lightly floured surface. I use a rolling pin to make it completely even, but you can also just use your hands (use a light touch). With a fork, prick the entire surface of the dough and bake for approximately 8-10 minutes.
Remove from the oven, and let it cool for 5 minutes. Top with tomato sauce, and add your favorite toppings. Going TOO thick on toppings may result in a soggy crust so be careful. Return to the oven and bake for another 8-12 minutes, or until the cheese is melted and begins to brown. Repeat with the second half of dough or store it in your fridge for later!
get the genius kitchen app.
Watch on your iPhone, iPad, Apple TV, Roku, or Fire TV.
Learn More