"Since I should not eat bread or dough, this still allows me to eat my pizza. It is a soft crust since it is egg based. I add the garlic powder and grated cheese to give it a more pizza dough taste. I top it with extra lean beef, low-fat cheeses, sauce and veggies to keep it healthy."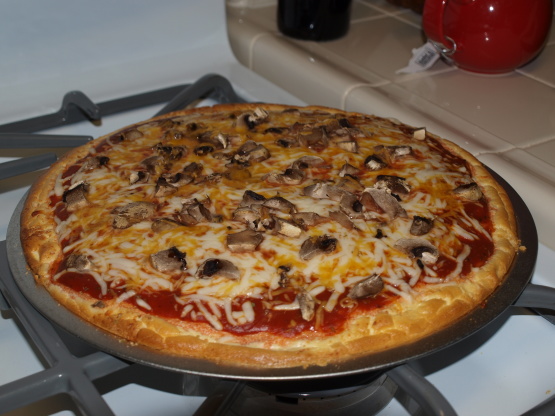 Flourless Pizza Crust Substitute
4 recipe photos
Directions
Beat the egg whites and cream of tartar with a mixer until stiff.
In another bowl, beat the egg yolks, Splenda, salt, garlic powder and cream cheese until smooth.
Gently fold the egg yolk mixture into the egg whites BE VERY CAREFUL that you not to deflate the whites.
Spray cooking spray on a medium-sized pizza pan.
Spread mixture out on a pizza pan.
Sprinkle with Grated Parmesan Cheese.
Bake at 300 F for 20 minutes.
Remove. Place on toppings and bake pizza. This will be a soft crust pizza.