"Here is another yummy gluten-free cake perfect for Valentine's Day and for anyone who loves poppy seeds and chocolate! It contains no white sugar or high-GI flour. For heart shape dusting, draw a big heart on a piece of parchment paper using a pencil and cut the heart out. Place the heart in the center of the baked cake and dust cocoa powder around it. Discard the heart paper and place the remaining paper on the cake aligning with the heart shape. Dust powdered sugar to create a white heart in the center. If you are concerned with blood sugar spikes, please substitute erythritol for coconut sugar and use sugar-free chocolate. The cake gets more moist if you wrap the cake and keep it at room temperature overnight."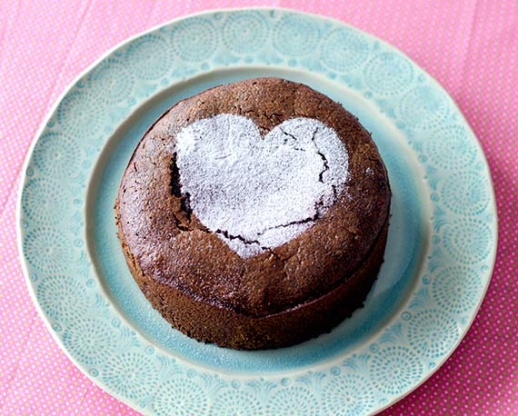 Flourless Poppy Seed Chocolate Cake
2 recipe photos
Directions
In a 2-cup measuring cup, place poppy seeds and pour boiling water to completely cover the poppy seeds.
Drain well using a coffee filter. Set aside.
In a small pan, melt butter and add chocolate pieces under very low heat until the chocolate is melted. Set aside.
In a medium bowl, whip egg whites until stiff peaks are formed. Set aside.
Preheat oven to 350°F/180°C. Spray oil inside a 7-inch (18 cm) springform pan.
In another medium bowl, beat egg yolks and coconut sugar until smooth.
Add almond or vanilla extract, melted chocolate, and liquor (if using) and mix using a spatula.
Add poppy seeds and mix. Add almond meal and salt and mix.
Fold in the egg whites and mix until blended.
Bake for about 40 minutes. Cool and remove the cake from the pan.
Dust cocoa powder and powdered sugar using a heart-shape stencil (see note above).
Infuse love and serve with whipped cream and/or ice cream if desired.
get the genius kitchen app.
Watch on your iPhone, iPad, Apple TV, Roku, or Fire TV.
Learn More