"RealMomKitchen said: "I think I have finally found the perfect plain old pancake recipe, thanks to Recipe Rhapsody. Now Recipe Rhapsody actually got the recipe from Radishes and Rhubarb who adapted the recipe from the Better Homes and Gardens Cookbook. Here's the funny thing. I have that cookbook on my shelf with that recipe in it and never tried it. Hello???? What was I thinking????? So I must thank Recipe Rhapsody for making me aware of a wonderful recipe that I already had on my shelf." (http://realmomkitchen.com/1425/fluffy-buttermilk-pancakes/). I'm posting here so I don't lose the recipe. It worked great with rice milk used in the classic buttermilk substitute of lemon juice and milk!"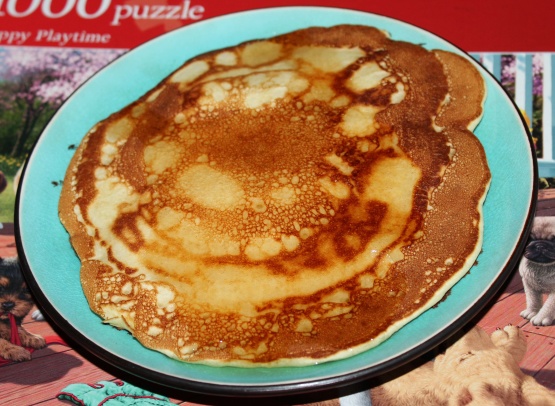 Fluffy Buttermilk Pancakes Via RealMomKitchen.com
1 recipe photo
Directions
Mix dry ingredients together in medium bowl.
Add all wet ingredients (eggs, buttermilk, and oil) to a separate bowl and stir just until blended. If you need to substitute for the buttermilk: in a liquid measure put 2 Tbsp lemon juice and then fill the rest of the way to the 2c level with regular milk or milk substitute. (it's a 1T to 1c ratio).
Add the wet ingredient to the dry ingredients just until combined. Do not over mix, batter will be slightly lumpy.
Lightly coat skillet with oil. Heat to medium low.
Drop 1/4 cup of batter onto heated skillet. Use the back side of a spoon to help even out the batter.
Cook on first side until bubbles begin to form on surface and underside is golden, about 2 minutes.
Flip over and cook another 2 minutes until golden brown and center springs back when lightly touched.
Serve warm with maple syrup and butter.