"Almond paste is used in many recipes. You can buy it in the baking section of most supermarkets and then tint and color it yourself, but it is much fresher and cheaper to make your own. It's good to make it at least a week in advance so that the flavor of the almonds can ripen fully. It will keep for six months, refrigerated."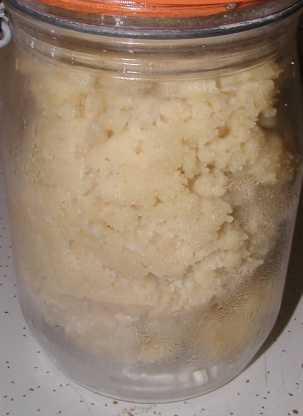 Food Processor Almond Paste
1 recipe photo
Directions
Combine the sugar, water, and corn syrup in a pan and cook, without stirring, until the temperature is 235 degrees F. Then stir in the almond extract.
While the syrup is heating, preheat the oven to 250 degrees F. Put the peeled almonds on a cookie sheet and leave them just long enough to warm up, about 8 to 10 minutes. Then, while they're still warm, grind them in a food processor until the texture is fine and smooth. If necessary, add 1 or 2 tablespoons of water to loosen the mixture and make it easier to process.
With the food processor going, gradually pour in the syrup in a slow, steady stream. Process until the paste is uniform. Remove it from the work bowl, wrap it well in plastic wrap, and refrigerate it until needed. To make it soft and easy to work with, put it in a warm place, such as on top of the stove while the oven is on, or heat it in a double boiler or a steamer set over simmering water.