"I usually cook everything from scratch, but sometimes you're in a rush & don't have the time. These cupcakes are perfect for times like that....I have these on standby every Halloween for the trick-or-treaters! If you're not so pushed for time, make 36 of your own cupcakes or use a 22.5 ounce box of brownie mix."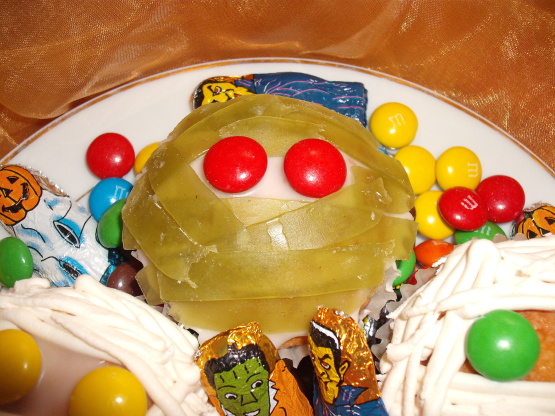 Freaky Mummies in a Flash - Halloween Treats!
7 recipe photos
36

small cupcakes, vanilla (fairy cakes) or 36 small chocolate (fairy cakes)

1

(16 ounce) can vanilla frosting (or 2 cups buttercream, homemade frosting, icing etc)

green sour apple bubble gum tape (I use Kelloggs Fruit Winders Doubles)

72

M&M's
Directions
(If using a boxed brownie mix -- Heat oven to 350°F Prepare brownie mix according to boxes directions. Divide batter among lined cupcake pans to make 36. Bake 20 minutes and let cool completely.
Spread frosting onto cupcakes. Place a piece of trimmed gum across center of cupcake. Top with M&M's for eyes. Place more pieces of gum at slight angles to cover tops, leaving eyes visible.
I like to use Fruit Winders / fruit leather in place of bubble gum & I also love piping frosting on the cupcakes. You can use a ready made frosting tube for piping, a piping bag or a small ziplock bag with a tiny bit snipped of one corner.