"I spent years messing around trying to come up with the ultimate French-style, crisp-crusted bread, and many times came within bragging distance. But with this recipe closely adapted from Paula Wolfert's Country-Style Bread in The Cooking of South-West France – I've found it! It is the simplest of breads: flour, water, salt, yeast. It's good, chewy, coarse, basic: more European than American in taste and texture. Made without fat, sugar or milk, it has a very crisp crust, made even crisper by an in-oven spritzing with water. Thanks to a starter made a day or two ahead of time, it has the faintest tang of sourness. The length of kneading time may seem daunting; so if you do not have a sturdy mixer, have a friend handy….."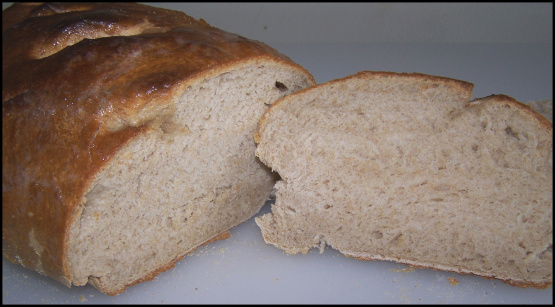 French Country Bread
4 recipe photos
Directions
One to two days before you plan on serving the bread, make the starter; in a medium-size bow. Dissolve the yeast in the warm water and let it proof until foamy. Stir in the flour and mix until smooth. Cover the bowl tightly with plastic wrap and let stand at room temperature.
On bread-baking day; make the dough: Transfer the starter (don't worry if it has separated) to the large bowl. Add the lukewarm water and the fine sea salt and stir well to combine. Begin adding the flour one cup at a time, beating well after each addition. Make sure each cup is absorbed before you add the next. If the dough is tacky after all of the flour has been added, add an additional one or 2 tablespoons of flour.
Knead the dough on a lightly floured surface until it is smooth and elastic. This will take 20 minutes by hand; if you have a mixer with dough hook, 8 to 10 minutes will do the trick. If you use a dough hook, do give the dough a few last turns by hand. You want a consistency that is smooth elastic and somewhat soft.
Flour the inside of a large bowl and place the dough in it. Cover with a clean cloth and let rise in a warm place until doubled in bulk, about 1 ½ to 2 hours. Punch down the dough, and knead it quickly – 15 or 20 turns – then return it to the bowl and let it rise until doubled in bulk a second time. The second rising is usually a little quicker, 1 ¼ to 1 ½ hours. Punch down again, reflour the rising bowl, add the dough, and let rise a third time.
As the bread is one its third rise, preheat the oven to 450 degrees and have at hand a plastic mister, such as you use for plants, filled with spring water. Place a baking sheet as close in size as possible to that of an oven rack on the middle rack. The sheet mimics an oven floor. Sprinkle a second, smaller baking sheet well with cornmeal.
When the dough has risen the third time, invert it carefully out of the bowl onto the cornmeal-sprinkled sheet, and using a razor, slash the top with two or three Xs, 1/16 or 1/8 inch deep. Lower the oven heat to 400, spritz the interior of the oven 3 or 4 times with the mister and immediately slide the bread in, on its baking sheet, across the baking sheet already in the oven. Bake the bread 40 to 60 minutes, opening the oven and spritzing the inside once more, halfway through the baking. The bread is done when it is golden brown and sounds hollow when thumped on its bottom. Cool the bread on a wire rack.
get the genius kitchen app.
Watch on your iPhone, iPad, Apple TV, Roku, or Fire TV.
Learn More