"I am posting this recipe on request of another member. I have never made it myself but she said it is very good so I will have to try now."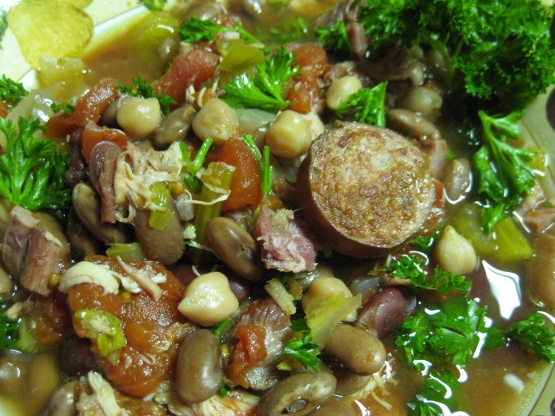 French Quarter Bean Soup
1 recipe photo
Directions
Rinse the beans.
In a Dutch oven, combine the beans and enough water to cover.
Bring to a boil, reduce the heat and simmer for 2 minutes.
Remove from the heat.
Cover and let stand 1 hour. (Or you could just soak the beans over night.).
Drain.
Add 6 cups fresh water and the ham hocks.
Bring to a boil and reduce heat.
Cover and simmer for 1 hour.
Remove the ham hocks.
When cool enough to handle, cut off the meat and chop. Discard the bones.
Return the meat to the bean mixture.
Add the undrained tomatoes, celery, onion, garlic, bay leaves and red pepper, then add the sliced sausage and chicken thighs.
Bring to a boil.
Reduce the heat, cover and simmer about 1 hour or until the chicken and beans are tender.
Remove the chicken thighs and cool slightly.
Remove the meat from the bones and chop.
Discard the bones and return the meat to the soup.
Add the parsley and remove the bay leaves.