"Ideal for summer days or just getting one of your 5 a day. Can use and fruit such as strawberries, pineapple, peaches, oranges and lemons. Makes 4-8 lollies dependent upon your lollies mould capacity."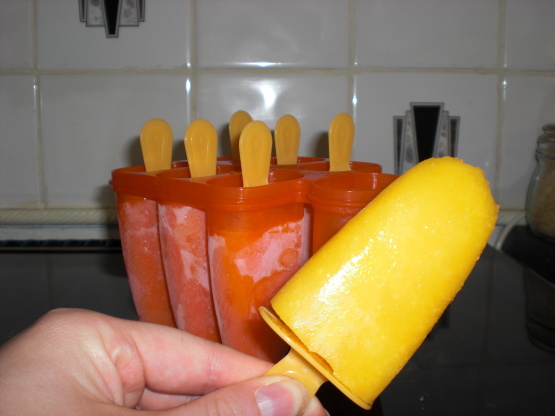 Fresh Fruit Ice Pops (Ice Lollies)
1 recipe photo
Directions
Peel Mangos, remove stone and dice. For pineapple remove skin, chop into chunks, for strawberries hull and quarter.
In a food processor puree the chosen fruit, adding icing sugar and cranberry juice.
Pulse for 30 seconds.
Pass mixture through a sieve until pulp is left. Discard pulp.
Pour mixture equally into ice lolly moulds and freeze (about 24 hours).
Then enjoy.