"I got this recipe out of the Paula Deen magazine, March/April 2008 issue. Made it for myself for my birthday, and everyone REALLY loved it. It is a dense, extremely moist cake. It didn't last long at all when I broke it out. For me, I would say it could stand a bit more tangerine flavor, but it was quite good. I wonder if adding orange extract to the batter would make a difference? Maybe next time. . . I also think you could substitute any other kind of citrus, equal amounts, with the same delicious results."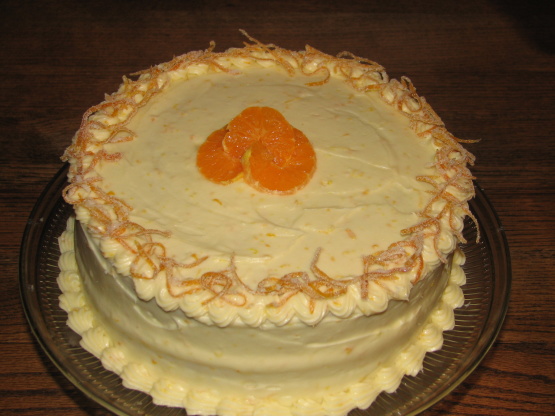 Fresh Tangerine Cake
3 recipe photos
Directions
For the cake:.
Preheat the oven to 350 degrees. Spray 2 (9-inch) round cake pans with non-stick cooking spray with flour. Set aside.
In a large bowl, combine flour, sugar, baking soda, baking powder, and salt. Beat in oil, zest, juice and eggs at medium speed with an electric mixer until combined. Add sour cream, beating until smooth.
Pour batter into prepared pans, and bake for 25 minutes (it took about 40 minutes for mine, FYI), or until a wooden pick inserted in center comes out clean. Let cool in pans for (at least) 10 minutes. Remove cake from pans, and cool completely on wire racks.
Spread frosting in between layers and on top and sides of cake. Garnish with candied tangerine zest, and pipe remaining frosting around top and bottom of cake, if desired.
Note: You can purchase the candied zest at many specialty stores, or do as I did: Zest the tangerines in long pieces (one inch or more). Boil zest in one part water to one part sugar for approximately 20-30 minutes, or until you can easily bite through it. Let dry on a wire rack, then store in airtight container. Or, as I like to do--while the zest is still wet, dredge it in granulated sugar before drying.
For the frosting:.
In a large bowl, beat cream cheese and butter at medium speed with an electric mixer until creamy. Beat in zest and juice until combined. Gradually beat in confectioner's sugar until smooth.