"From Emeril Lagasse's cookbook, New New Orleans Cooking, this is marvelous! Tweaked just a little to my liking!"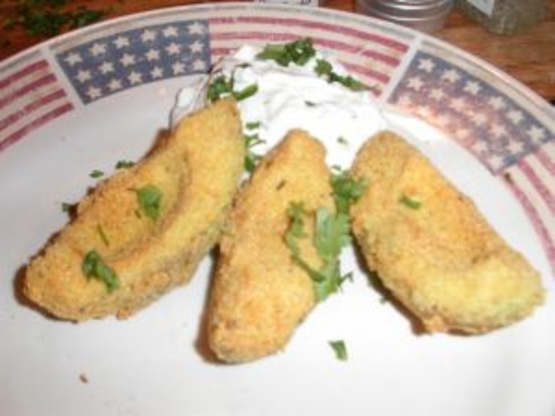 Fried Avocado Slices With Spicy Lime Cream
1 recipe photo
Directions
In a medium bowl, combine buttermilk, hot sauce and avocado slices.
Soak for 30 minutes.
In a small bowl, combine the sour cream, lime juice, cilantro, red onion, jalapeno pepper, and 1/2 teaspoon of salt.
Stir to combine.
Chill until ready to use.
In a medium deep-fryer, fill oil to a depth of 3 to 4 inches (no more than halfway up sides of the pan.) Heat oil to 375 degrees F over medium-high heat.
Combine cornmeal, flour, 3/4 tsp Essence, baking powder, and the remaining teaspoon of salt in a shallow dish.
Dredge soaked avocado slices in the cornmeal mixture, shaking to remove excess cornmeal.
Place avocado slices in the hot oil and fry until golden, about 1 to 2 minutes each side.
Using a slotted spoon, remove slices and drain on a paper towel-lined plate.
Season with additional Essence.
Serve immediately with spicy lime crema and garnish with lime wedges.
For the Essence:.
Combine all ingredients thoroughly.
Yield: 2/3 cup.