"How I cook frozen breasts without defrosting them. I normally don't think two days in advance to thaw them :-) The time will differ slightly based on the thickness of your breasts and the wattage of your microwave. IQF = individually quick frozen."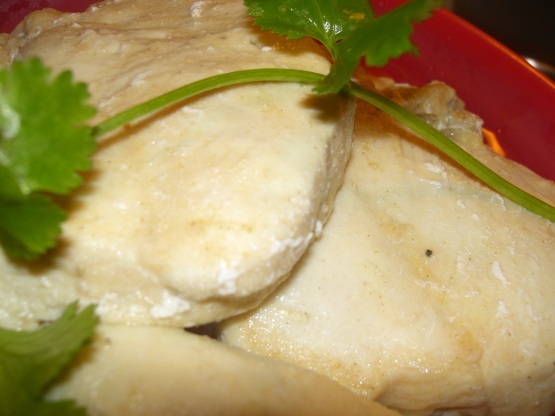 Frozen Chicken Breasts in Microwave
1 recipe photo
Directions
Layer frozen breasts in a round pie or casserole dish. (Try to fit as many on the bottom as possible.) Add enough water to cover the top layer at least half way. Cover with tight fitting lid, or saran wrap.
Microwave on high for 10 minutes. Let them sit for about 3 minutes, and then check on them (watch out for the steam, I always burn myself.)
Remove the cooked breasts from the bottom to a separate dish, recover the remaining breasts and cook for an additional 3-4 minutes depending on the thickness.
Use in whatever recipe as you desire - the water turns into a decent broth.
Update: I decided to try this with some frozen, skin on and bone in thighs. It was a terrible mistake - the bones apparently make the cooking time considerably longer (upwards of 45 minutes.) I would recommend just sticking with boneless skinless :-).