"This recipe came from our yacht club news letter. We don't have a sailboat there anymore, but we are still members. I don't care so much about what's in the flier except for the recipes! This one is really nice, but must remain frozen. We use the name "Frango" loosely around this area. True Frangos were developed and sold by the now out-of-business local Frederick & Nelson Dept. Store. We miss them. I'm thinking of using orange extract, raspberry extract, there are many possibilities! This recipe calls for 18 cupcake liners, which in my opinion would make for HUGE Frangos, so I used candy foil liners. It will make about double if candy liners are used!"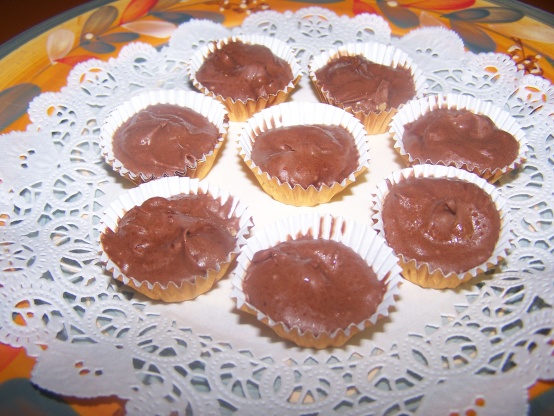 Frozen Chocolate "frango" Mints
2 recipe photos
1

cup butter, softened

2

cups sifted powdered sugar

3

unsweetened chocolate squares, melted

1⁄2

teaspoon peppermint extract

vanilla wafer crumbs

5

egg yolks

18

foil liners, for candy
Directions
Using electric mixer, beat butter and sugar together until light and fluffy.
Add melted chocolate and continue beating until thoroughly mixed.
Add egg yolks and beat again until fluffy.
Beat in peppermint extract.
Sprinkle about 1 teaspoon cookie crumbs into candy liners and top with chocolate mixture.
Freeze for at least 1 hour. Serve straight from the freezer and re-freeze leftover. You can top these with maraschino cherries, crushed candy canes, even whipped cream, but not necessary. (For a more decadent dessert, serve in pre-made chocolate shells instead of candy liners.