"I'd like to preface this recipe by saying that I am posting
Vegan Fruit Jello Cups
too. I prefer it even though we are not vegans, but certainly gelatin is easier to find than the ingredient used to 'set' in the vegan recipe. I make either recipe depending upon what I have available to substitute for the store bought fruit Jello cups. It's easy and much more affordable. I like to use those mini-ziplock containers with the lid because they are perfect in size and can stack in the fridge. You could also save a few pudding, jello or applesauce containers and just use foil to cover. You will need 8 for this recipe. This recipe is easy enough that the kids can help too (just take care with the boiling liquid) and each cup has two servings of fruit! For my bigger kids (4 and older)I like to drop my soft gummy vitamin(s) in before setting in fridge to gel. My kids call them the "treats" in the middle! You can customize this for smaller kids by pureeing the fruit (puree the vitamin too!) before adding to the cups. I love being sneaky!"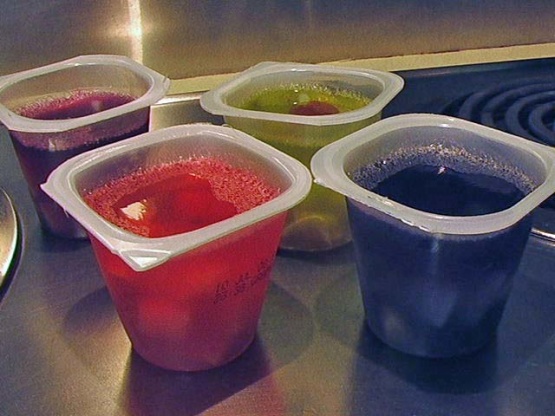 Fruit Jello Cups
1 recipe photo
2

(1/4 ounce) packages gelatin (can use a smidge less for a softer set)

2

tablespoons Splenda granular or 2 tablespoons white sugar
1 1⁄4

cups boiling fruit juice (apple juice is a great neutral flavor)

1

cup cold fruit juice (any but real pineapple & kiwi)

1

(14 ounce) can mixed fruit, in fruit juice (or canned fruit of your choice)

Optional

fresh fruit, cleaned and small-chunked can be substituted for canned. (Do not use kiwi or pineapple because those fruits contain enzymes that prevent the gelatin from gel) (optional)

Optional

1 -2

tablespoon lemon juice (for keeping fresh cut fruit from browning..can also use commercial product like (Fruit-Fresh, option) (optional) or 1 -2 tablespoon orange juice (for keeping fresh cut fruit from browning..can also use commercial product like (Fruit-Fresh) (optional)

Optional

food coloring (we like the extreme colors) (optional)
Directions
If using fresh fruit, clean and peel hard skinned fruits (apples, bananas, pears, oranges, etc, melons, etc) and cut into small chunks. Use your choice of anti-browning agent and sprinkle, then toss to coat well the cut fruit. Set aside.
Boil fruit juice and sugar in a microwave safe container in the microwave until boiling. don't allow to much liquid to be lost to steam. Cover in microwave if you can. Stir well, making sure all sugar has dissolved. If using Splenda, do not add at this point.
Meanwhile, open can of fruit and drain juices into a separate medium sized non metal bowl.
Pour drained juices into a measuring cup, add Splenda and fill to 1 cup mark with fruit juice of your choice (remember, no real pineapple or kiwi juice.artificial flavoring is ok).
In the non metal bowl you already used, pour boiling fruit juice mixture and sprinkle gelatin in slowly while stirring until gelatin is dissolved.
Line up your cups and pour mixture to about half (using the cups I mentioned above). When all mixture is poured in, add 1 tiny drop to each container you want to color and mix with a spoon. The extreme colors are very bright/dark and I think the pink and green/yellow turn out the prettiest with the fruit. Don't use big drops or you wont be able to see the fruit as well. Sometimes I split one drop between two by putting one drop in one container and then pouring the mixture back and forth in the separate containers till desired color is achieved. The regular food coloring has nice Christmas colors. The kids love this part!
After you are happy with your colors, add about 2 TB of the chunked fruit to your cups. It will sink to the bottom and raise the level of the gelatin to within 1/4" of the top.
Cover and chill about 1 hour.
Feel free to use different kinds of juice and fruit. Each container has about 2 servings of fruit. This makes a firm set.if you prefer a softer set, add 1/8 cup more cold fruit juice.
get the genius kitchen app.
Watch on your iPhone, iPad, Apple TV, Roku, or Fire TV.
Learn More