"A visually stunning dessert. Bursting with summer flavours, it is a wonderful way to end any meal. It can be made ahead and kept in the freezer ready for unexpected company or for anytime you need a cool treat. To decrease the preparation time substantially, use 3 litres of store bought vanilla ice cream instead of making the frozen yoghurt."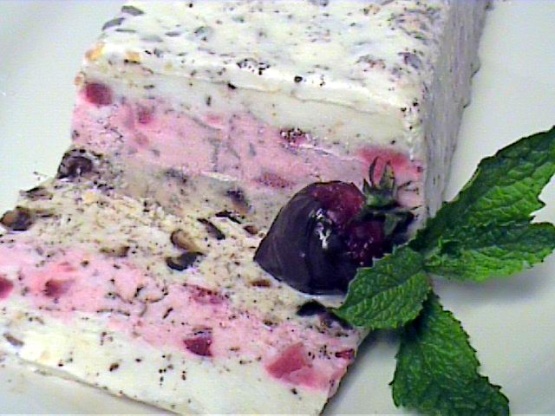 Fruity Frozen Delight
2 recipe photos
Directions
FROZEN YOGHURT:.
Whip cream until stiff.
Whisk egg whites until stiff peak stage; add sugar little by little until stiff and glossy.
Lightly fold all ingredients together until well blended.
Divide into three equal portions and spoon into freezer containers.
Freeze for 2 ½ hours stirring every ½ hour or so to ensure a smooth end product.
Mix each fruit "jam" into its own frozen yoghurt portion along with the chocolate shavings.
Return to freezer for 2 hours to freeze solid.
STRAWBERRY AND CANTALOUPE LAYER:
Each fruit "jam" is made separately.
Do not add chocolate at this stage.
Heat all ingredients and stir over low heat for five minutes or until sugar has dissolved.
Leave to cool.
DATE LAYER:.
Heat all ingredients except dates for five minutes or until sugar has dissolved.
Stir in dates and leave to cool.
ASSEMBLY:.
Spoon 2 cups of cantaloupe yoghurt into each loaf pan and smooth down.
Spoon 2 cups of the strawberry yoghurt on top in the same fashion and lastly add 2 cups of the date yoghurt.
Place back into freezer until ready to serve.
PRESENTATION:.
Remove frozen yoghurt from loaf pan by placing pan under running faucet for 15 seconds taking care to not get frozen yoghurt wet.
Invert pan and lay frozen yoghurt loaf onto well-chilled serving platter and decorate as desired.
Serve in slices.