"A Healthy snack to make, and enjoy. Haven't had a chance to make this yet myself. Use your favorite dried fruit, figs, dates dried cranberries, cherries or blueberries in place of the apricots and raisins. Enjoy."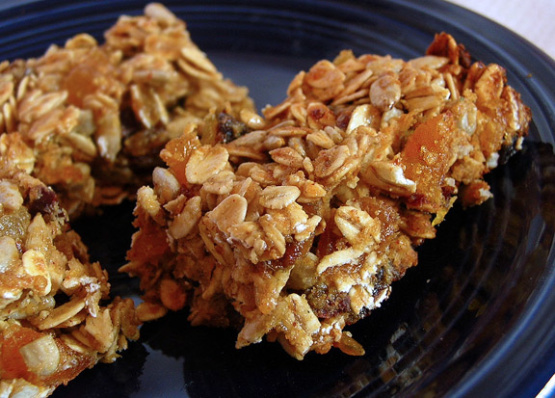 Fruity Granola Energy Bars
2 recipe photos
Directions
Preheat oven to 350 degrees F.
Spray a 9-inch square baking pan with non-stick cooking spray or brush with oil.
Combine oats,wheat germ, apricots, raisins, sunflower seeds, cinnamon and salt in a large bowl.
Combine melted butter and brown sugar in a small bowl until sugar is dissolved.
Stir in honey, egg and vanilla until smooth.
Stir liquid mixture into dry mixture until dry ingredients are evenly moistened.
Press mixture firmly and evenly in prepared pan.
Bake for 20 minutes, or until golden and firm.
Cool on wire rack before cutting into squares or bars.
Wrap individually for easy grab and go breakfasts and snacks.