"One of my goals is to eat better at breakfast. I am not a morning person and so I seem to all too often run out the door to work and not grab a thing for breakfast. That leads to either eating no breakfast. That leads to either eating no breakfast, which is not healthy, or picking up fast food, which is also not healthy. This muffin recipe comes from my mom. Mom always makes these at the holidays. But not just the winter ones. We would also have them on the morning of 4th of July before we headed out to watch the parade. They are absolutely wonderful and nutritious! I make a double or even triple batch and then freeze them. That makes it a snap to just grab one (or two or three) on the goo and has me actually eating a nutritious breakfast."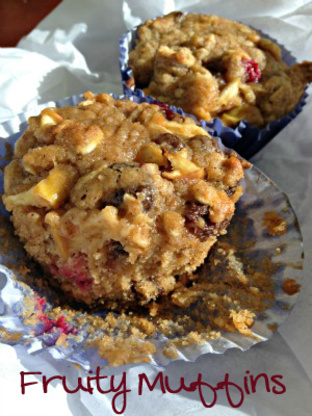 Fruity Muffins
1 recipe photo
Directions
Preheat oven to 350°F.
Mix dry ingredients (minus sugar) in a large bowl.
Break egg into another bowl, add sugar, whisk until smooth.
Whisk in melted butter and vanilla.
Stir in fruit.
Pour over dry ingredients and fold just until dry ingredients are moistened.
Spoon batter into muffin cups lined with cupcake papers. These don't really rise, so fill the cups full.
Bake 20-25 minutes.
Cool and enjoy.