"Salsa concocted by the Genies of Gourmet team for Zaar World Tour 5, blending elements of pico de gallo, guacamole, and green salsa in a single mild but tasty dip. Members of the team suggested ingredients which were then put together by my DH. Here are the suggestions: tomatillos: CharlotteJ; cilantro: Vicki in Ct; lime: MarraMamba; garlic: Island Gurl; onions: A Good Thing; jalapeños: Westtextazzy; salt: Chef sizzle; cumin: LoriInIndiana; avocado: Lavender Lynn; tomato: MissChef-Maker."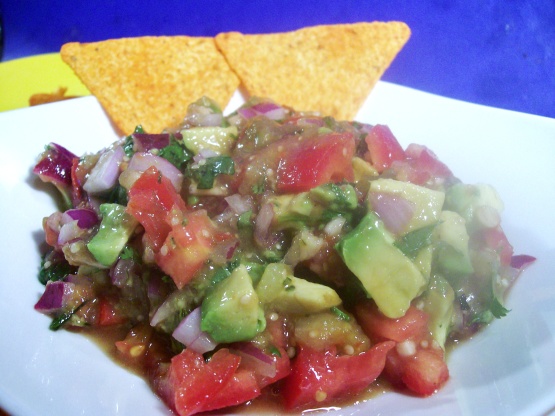 Genies' Magic Salsa
3 recipe photos
Directions
Remove husks from tomatillos and rinse well. Cut in half and broil, cut side down, close to elements, until about half of the skin of each is blackened.
Remove as much of the skin as will peel off, paper-like, without taking the flesh with it. Some skin in the salsa is ok, but skin adds a bitter flavor.
Place the roasted tomatillos in a blender and pulse until mostly but not completely liquified. Pour into a small mixing bowl, leaving a little in the blender. Add brown sugar to taste, just enough to cut any residual bitterness in the tomatillo mixture.
Dice the tomatoes and red onion. Peel the avocado, remove any dark spots, and dice -- do not squash, this isn't guacamole.
Finely mince the garlic, and chop the celantro. Add the prepared ingredients, plus cumin, salt, and lime juice, to the tomatillo mixture and gently fold together.
Chill this mixture while you make the dressing.
Dressing: Slice the three peppers in half lengthwise, removing white core, seeds, and stem. Broil as you did the tomatillos but do not remove the skin. Place the roasted peppers in the blender with oil, vinegar, and any tomatillo left there. Pulse to break up the peppers, then run on medium speed until the mixture is almost smooth. This is the flavor kick of the salsa, to be added to your taste. Start with half, gently stir in, sample, and add more as you like. (It won't be extremely hot even with all of the dressing.).
get the genius kitchen app.
Watch on your iPhone, iPad, Apple TV, Roku, or Fire TV.
Learn More