"Farmer's Cheese is a fresh, moist cheese with very small curds pressed into blocks (Topfen in German), it's the basis for many central European desserts. For the best results, use whole milk cheese and not the low fat variety. It is available at well stocked cheese stores. If necessary, substitute small curd cottage cheese (not creamy or California style, which are too liquid), rubbed through a coarse meshed sieve. Topfentorte is a light, even delicate, alternative to the dense American classic. Some bakers consider a cracked cheesecake a disaster, but a few shallow hairline cracks are fine. Deep cracks are caused by overbaking, so don't be tempted to bake longer than necessary, even if the center seems underdone. Residual heat will continue to cook the cake outside of the oven, and it firms up even more when chilled."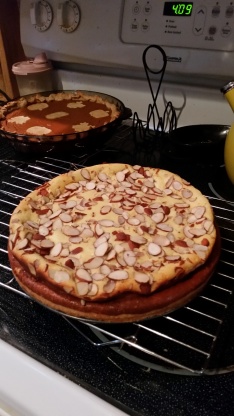 German Farmer's Cheesecake Topfentorte
1 recipe photo
READY IN:

1hr 5mins

SERVES:

12

UNITS:

US
Directions
Position a rack in the center of the oven and heat to 325°F Lightly butter a 9-inch round springform pan.
TO MAKE THE CRUST: Combine the flour, sugar, and salt in a medium bowl. Using a pastry blender, cut in the butter until the mixture resembles coarse crumbs. Make a well in the center of the flour mixture. In a small bowl, beat the egg yolks, lemon zest, and vanilla and pour into the well. Stir with a fork until the mixture is well moistened and the crumbs hold together when pressed between your fingers. Gather up the dough. Press it firmly and evenly into the pan, bringing the dough about 3/4 inch up the sides. Pierce the dough all over with a fork and refrigerate for 2 minutes.
Bake until the crust is set and barely beginning to color, about 12 minutes. Cool completely on a wire rack.
Reduce the oven temperature to 350°F.
TO MAKE THE FILLING: Rub the farmer's cheese through a wire sieve into a medium bowl. Add the sour cream, 1/4 cup of the sugar, the milk, cornstarch, vanilla, lemon zest, and salt and beat with a handheld electric mixer on medium speed until combined. One at a time, beat in the egg yolks.
Using CLEAN beaters, beat the 5 egg whites in a medium bowl on high speed until soft peaks form. Gradually add the remaining 1/2 cup of sugar and beat until the whites form stiff, shiny peaks. Stir about one fourth of the whites into the cheese mixture, then fold in the remainder. Pour the filling into the cooled crust and spread evenly. Sprinkle the raisins and almonds over the top.
Bake until the sides of the filling are gently puffed and barely touched with golden brown, even though the center will seem unset when the pan is give a jiggle, about 40 to 45 minutes.
Remove from the oven and immediately run a sharp knife around the inside of the pan to release the cake. Transfer to a wire rack and cool completely. Remove the sides of the pan. Cover the cake with plastic wrap and refrigerate until chilled, at least 2 hours or overnight. Serve chilled, using a hot, wet knife to slice the cake. Makes 12 servings.
MAKE AHEAD: The cheesecake can be made up to 2 days ahead, covered, and refrigerated.
Kaffeehaus.Rick Rodgers.