"I have a great deal of admiration for the Ghurka people, as well as happy memories. I went to school with several Ghurka children when I lived in Hong Kong during the 60's and 70's - they were my close friends in the playground as well as in the school room. I was also lucky enough to be invited to their homes for SUPERB Nepalese food, of which one dish was this delicious Chicken Cardamom. This is the way Chicken Cardamom is REALLY cooked. It is not difficult to make and does not take very long either. Cooking it to this recipe will produce a totally authentic dish that will appeal to a wide range of palates. I have posted this recipe because it is so TASTY and the mix of flavours is truly astonishing. This is not a fire breathing curry, but it is warm and subtle. My preference is a long glass of light lager or a few glasses of a dry white wine to accompany the meal. Serve with a jug of water with lemon slices and ice cubes for those thirsty diners. This recipe will make enough for 8 good sized portions. Divide everything by 2 for a standard meal - but keep the cooking times the same - and if you do scale down the quantities just keep an eye on the dish that it does not burn. Historical Note: The Gurkhas are soldiers that have served in the British Army for many years. They come from the Himalayas and they are feared all over the world. The first Gurkhas were fighting men from the mountain kingdom of Nepal -- Rai, Magar, Limbu, Gurung and Sunwar tribesmen.(I found this recipe on the Hidden England website, and I have enjoyed it many times since discovering it!)"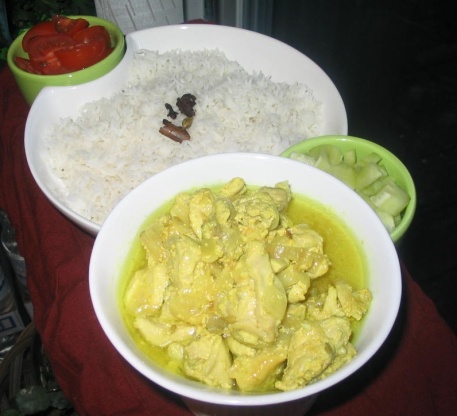 Ghurka Chicken Cardamom Curry - Kukhra Alainchi Sanga
2 recipe photos
READY IN:

2hrs 35mins

SERVES:

8

UNITS:

US
Directions
Peel and chop the onions, garlic and ginger into small pieces.
Make a masala from the yoghurt, cardamom, chopped ginger, chopped garlic, fennel and cayenne by grinding the mixture into a smooth paste.
Sprinkle the meat with a little salt, then pour over the masala mixture, and allow to marinade for at least an hour.
Heat the oil, in a large pan, until a slight blue haze can bee seen. Add the cinnamon (chopped/ground into fine pieces), the cloves and the onion pieces. Cook until the onion is golden brown.
Add the marinaded chicken pieces to the pan which should still have the onions, cloves and cinnamon, making sure that you get as much of the marinade in the pan as possible.
Put it back on the heat. Without stirring the mixture, you should see oil slowly rising to the surface. At this stage CAREFULLY add the cold water and bring the mixture back to the boil.
Cover the pan and simmer over a low heat until the chicken is cooked and tender. Stir occasionally.
Serve the chicken meat on a bed of rice and pour over the masala that is left behind in the pan.
The rice can be either plain, pilau or saffron. On the table add small serving bowls with individually contain chopped onions, chopped tomatoes, chopped cucumbers and chutney. This allows your diners to add the hot/cold selections from the bowls as they wish. This is also wonderful when served with nan bread or similar.
Category Note.
"Gurkha" curry listed in the English category?.
Visit any English town and you will see at least one Indian restaurant and on the menu I will guarantee you will see at least 2 of these recipes. Indian (and Chinese) dishes have been taken and adapted to become our 'Traditional' English dishes. In some cases we have actually exported these dishes, slightly altered, back to the original country who has adopted them as their own national dishes!