"This recipe (from Bon Appetit) appeared in the cooking section of our paper last Wednesday, and after reading the description, I knew I must make them. They live up to the hype... "there are times when too much of a good thing is never enough, when the entire bag of chocolate chips you have stuffed in the cupboard, ostensibly for baking, only serves to intensify your craving and ratchet up your crazy factor. I'd demand one of these cookies for my last supper. Let's be clear: you don't waste these cookies on your kids. You make them for a dinner party for a bunch of foodie friends"... I even loved the BATTER of these cookies, and the cookies were as delicious, as promised. However, a friend made a batch, substituting some ingredients and they were too cloyingly sweet....using premium dark chocolate is key! The original recipe did not include chocolate chips, and the food writer made the addition of walnuts optional. I added both, but instead of chips, I used chunks of the same quality chocolate that I used in the batter. This was my favourite new recipe this season..chocolate nirvana!"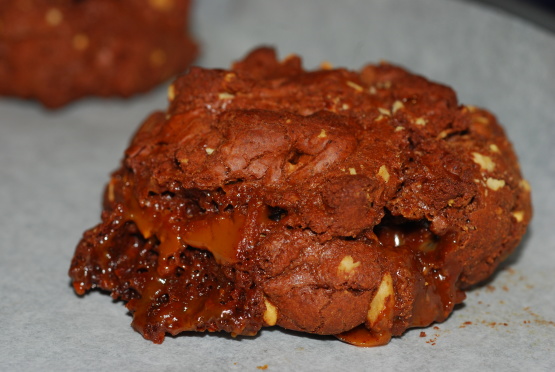 Giant Bittersweet Chocolate Toffee Cookies
4 recipe photos
Directions
Combine flour, baking powder and salt in small bowl; whisk to blend. Stir chocolate and butter in top of double boiler set over simmering water until melted and smooth. Remove from over water. Cool mixture to lukewarm.
Using electric mixer, beat sugar and eggs in bowl until thick, about 5 minutes. Beat in chocolate mixture and vanilla. Stir in flour mixture, then toffee and nuts (and optional chips). Chill batter until firm, about 45 minutes. (I spread the batter in a 11"x7" glass pan, and when firm divided the batter into 18 squares and fashioned balls by hand and then flattened them -- this made even sized cookies without using a scoop).
Preheat oven to 350°F Line 2 large baking sheets with parchment or waxed paper. Drop batter by 1/4 cupfuls onto sheets, spacing 2 1/2 inches apart. Bake just until tops are dry and cracked but cookies are still soft to touch, about 15 minutes. Cool on sheets. (Can be made 2 days ahead. Store airtight at room temperature.).
get the genius kitchen app.
Watch on your iPhone, iPad, Apple TV, Roku, or Fire TV.
Learn More