"This pancake will serve about 4 people and it is so yummy. It's a nice change from your traditional pancakes and everyone will love it so much more. The cinnamon and sugar make it unbeatable. I always make this for a brunch when I have special guests. It's a winner EVERY time! Note: You can make this the night before and just heat it up in the morning. Put it in the oven on 250°F for about 15 minutes."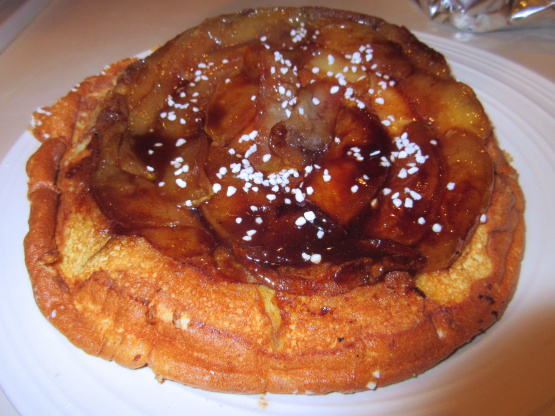 Giant Cinnamon Apple Pancake
7 recipe photos
Directions
Peel and slice apple about 1/8 inch thick.
Over low heat in a 10 inch skillet heat up butter 1/4 cup sugar and cinnamon.
Remove from heat and place apple slices in a circle overlapping them slightly until you have one large circle and one small circle in the middle.
Cook over LOW heat until tender-crisp. (About 10 minutes)
Meanwhile, preheat oven to 400°F and beat together flour, milk, baking powder, salt and egg yokes with a fork in a separate bowl.
Beat egg whites and 1/3 cup of sugar on high speed until soft peaks form.
Fold egg white mixture into egg yoke mixture and pour over cooked apples, spreading it evenly. (Be sure not to move the apples around).
Bake pancake for 10 minutes (or until golden brown).
Carefully invert pancake onto a plate so that the apples are on top.
Enjoy!