Want more from Genius Kitchen?
Watch on your Apple TV, Roku, or Fire TV and your iOS, Fire, or Android device.
Learn More
"Gilding is a 15th Century novelty - originally gold leaf was applied to decorate meat and poultry that was served at Christmas, as well as other feasts and festivals! This is a wonderful way of serving your traditional roast turkey - and with a saffron and butter basted gilded effect, NOT using gold leaf I hasten to add - but still achieving a deep golden gilded finish. If you cannot get any saffron, you could use just a little turmeric instead - but be careful as it has a very pervasive flavour! Bring this 15th century art back to your modern dining table this Christmas - and enjoy a wonderful moist butter basted roast turkey at the same time. Please try to source an organic, free-range or home-reared turkey – such as a Bronze or Heritage turkey; you will be doing your bit to support a traditional and more humanitarian way of rearing these lovely birds, as well as gaining a much better taste and flavour! NB: If you can get hold of edible gold dusting powder, you can sprinkle some of that on to the turkey before serving, for an extra sparkle! Joyeuses Fetes – Merry Christmas!"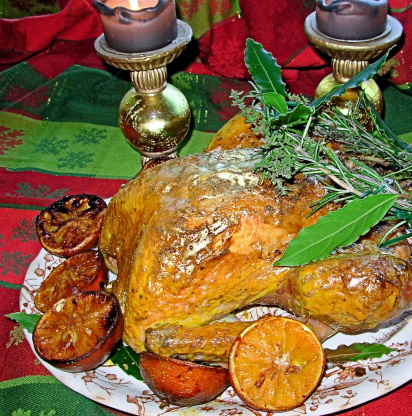 Gilded Saffron and Butter Basted Roast Turkey With Herb Garland
6 recipe photos
Directions
Pre-heat the oven to 170°C/350°F or Gas Mark 4.
Wipe the turkey, and remove any giblets from inside the bird if necessary.
Smear the butter all over the bird and place the onion, herbs and lemon inside the body cavity. Season the bird with salt and pepper to taste.
Place the buttered bird into a foil lined turkey tray. Cut a piece of greaseproof paper or baking parchment and press this over the breast part of the bird - to prevent the breast becoming too dry during cooking.
Cover the turkey with 2 large pieces of tinfoil/aluminum foil - making sure the foil DOES NOT touch the bird - you are creating a tent - with lots of air to circulate inside!
Cook in the preheated oven for 20 minutes per pound, plus 20 minutes - so a 10lb turkey will take about 3 hours and 40 minutes.
Try to take the turkey out at least twice during cooking time, to baste it with the buttery juices. Replace the foil cover before putting it back to continue cooking in the oven.
Whilst the bird is cooking, prepare your gilded glaze - choose which one you prefer, egg glaze or butter glaze.
Whisk the egg yolks with the saffron and melted butter. It needs to be the consistancy of a coating glaze, or a thick pouring cream or custard. If you are using just the butter glaze - whisk the saffron and melted butter together - this glaze will be thinner than the egg glaze.
Twenty minutes before the end of the cooking time, remove the turkey from the oven, and drain off all the juices for your gravy.
Turn the oven up to 190°C/380°F or Gas Mark 5.
Apply your gilded glaze to the turkey with a large pastry brush - brush it ALL over the turkey as evenly as you can and NOT too thickly with the egg glaze.
Return the turkey to the oven uncovered for the last 20 minutes - remove from the oven and allow to "rest" for 30 minutes before carving.
Remove the herbs, lemon and onion from the cavity before carving and serving.
Make the herb garland - twist sprigs of thyme, bay and rosemary together with some cooking string or twine, to form a circlet.
Serve the turkey adorned with a twisted garland of herbs, and with traditional accompaniments such as: Roast potatoes, mixed vegetables, red cabbage, gravy, stuffing, bacon rolls and Chipolata sausage rolls.
You can also "gild" the turkey by sprinkling edible gold dusting powder over the breast and legs of the turkey - this is available from specialist cake decorating shops.
get the genius kitchen app.
Watch on your iPhone, iPad, Apple TV, Android, Roku, or Fire TV.
Learn More