"Okay, I got this off a chef who didn't give any baking or heat directions, so I've posted what worked for me - which it did, but it might have been a freak accident... And note, this makes HEAPS so I actually halved it, which required, er, half an egg which was difficult to attain, I think I used 80% of the egg since it was hard to stop the whole egg from jumping in. Any suggestions? It came out really well though, because I added in some extra cinnamon and nutmeg to balance out the extra liquid."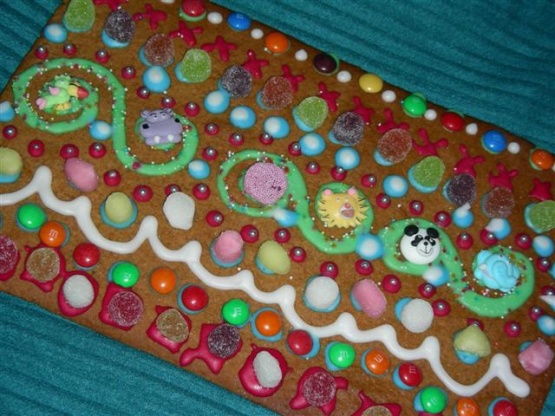 Gingerbread for Houses
3 recipe photos
Directions
Gingerbread: Mix butter, sugar, golden syrup together in a bowl until well mixed.
Add egg gradually, then add dry ingredients and mix well.
Refrigerate for at least 1/2 hours.
Preheat oven to 160°C.
Line 4 baking trays with baking paper. Place 1/4 of mixture onto lined baking tray and roll out to 1cm thickness. You should fill up the whole tray, but if not, that's okay, just reduce baking times by about 5-10 minutes.
Repeat with remaining mixture and trays.
Bake for 35 minutes.
Cool to room temperature for a couple of hours, preferably overnight.
Icing: Using an electric mixer, place the egg whites and lemon juice in a bowl and gradually add mixing sugar while beating on high until it reaches a thick consistency. Remember you will be piping it and it has to be thick enough no to drip. Add more icing sugar if it's too thin. Stop adding icing sugar if it's too thick.
Cover with plastic wrap while assembling gingerbread house. Use it like glue - edible, delicious glue.
Decorate with chocolate buttons (Smarties preferably, but M & Ms are acceptable too :D), gum drops, hundreds and thousands etc -- Let your imagination go free!