Want more from Genius Kitchen?
Watch on your Apple TV, Roku, or Fire TV and your iOS, Fire, or Android device.
Learn More
"Did you ever serve pasta as dessert or during the holidays as cookies? Here they are: gingerbread ravioli. I love them and I vary the filling every time. What a fun for kids, they can make ravioli with their own filling. This is fun to make and such a treat for all. Gingerbread Raviolis are addictive. There is a saying, that they would get better with storage time. I don't have a clue, if that is right, they disappear too soon. There is a long description and some more words on ingredients. Don't let them keep you off for making these little treats for the holidays. The gingerbread used here is typical in German christmas bakery. Maybe the ingredients are abit difficult to get, but it is worthwhile to try it. The making is simple and fun."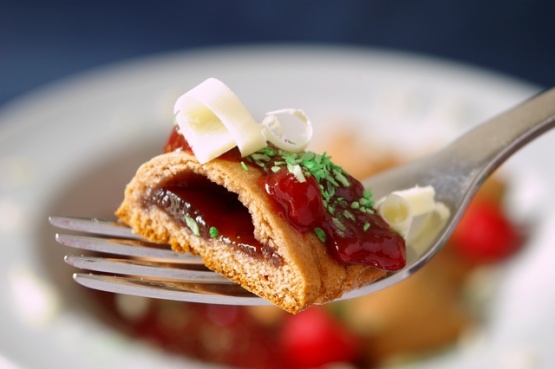 Gingerbread Ravioli
8 recipe photos
1

cup honey
1⁄2 cup sugar
3 1⁄2 ounces butter
4 3⁄4 cups flour

2

teaspoons gingerbread seasoning

1

tablespoon Dutch-processed cocoa powder

1

egg

1

teaspoon salts of hartshorn

1⁄2

teaspoon potash

3

tablespoons milk

Ravioli Filling 1

dried fruit, chopped (as needed)

walnuts, chopped (as needed)

Ravioli Filling 2

marzipan (as needed)
raisins (as needed)
rum (as needed)

Ravioli Filling 3

strawberry jam (as needed)

Ravioli Filling 4

praline paste, solid, cutable (as needed)

Serving and Presentation idea (optional)

green food coloring (optional)

red food coloring (optional)

raspberry jam (optional)

coconut flakes (optional)
white chocolate (optional)
marzipan (optional)
Directions
Put honey, butter and sugar into a pot and heat over low heat until sugar is dissolved completely. Remove from heat and let cool down slightly.
In a bowl mix together flour, cocoa, gingerbread spice.
Add honey mixture to flour and mix using the dough hook. Add egg and mix again.
Dissolve salts of hartshorn in 2 tablespoons of milk in a small bowl.
In a second small bowl dissolve potash in 1 tablespoon milk.
Add first salts of hartshorn mixture to dough and mix well. Than add potash mixture and mix well. Wrap dough into cling film and set aside for about 24 hours.
On the next day: preheat oven (355 F, 180 C). Line out baking tray(s) with parchment paper.
Dust the work space with some flour and knead the dough a few times. If the dough is too sticky dust it with flour. Divide the dough into smaller parts you can handle easily.
Roll out one part of the dough very thinly (about 1(8 inch thin). Dust the dough with flour from time to time, so that it is not sticky. The dough should be elastic, but dry. Halve dough.
On one part mark squares of about 2 inches. On each square placs some filling (see below). Now cover it with the second half of the dough and press slightly with your fingers in between the fillings to mark the ravioli. Cut out the ravioli with a knife.
For each ravioli: press the edges slightly with your fingers. Seal the edges by pressing a fork into the edges.
Place ravioli on baking tray and bake for about 12 minutes until ravioli a slightly browned. Remove from oven and let cool completely on cooling rack.
Keep them in an airtight container. They will get better with time, but I guess they will not stay that long.
FILLING: You can use almost any filling you like. Take my fillings as an idea for your own fillings.
Filling 1: chop dried fruit and walnuts an mix them together. Place a little of filling in the center of the ravioli.
Filling 2: soak raisins in a little rum. Take two or three soaked raisins and wrap them in a little piece of marchpane and place it in the center of the ravioli.
Filling 3: you can use you favorite jam. I use about 1/2 teaspoon for each ravioli.
Filling 4: cut solid praline paste into cubes of about 1/2 inch in size and roll them between your hands to form a ball. Place it in the center of ravioli.
CUSTOM YIELD: is a vague guess. It depends on how thin you roll out the dough and which size your ravioli have.
NOTE on potash: when you dissolve potash in milk a "strong" smell might occur. This is normal.
NOTE on potash and salts of hartshorn: these are very typical for German christmas bakery. They work a little like baking soda/powder, but give a very different flavour to the cookies.
NOTE on gingerbread seasoning: the one I use contains cinnamon,coriander, aniseed, allspice, cloves, star-anise, cardamon, ginger, and vanilla. I always use a commercial product.
NOTE on time of making: this is a guess. Sometimes I need longer, sometimes I'm faster. But it doesn't matter, because it is such fun to make these.
SERVING & PRESENTATION: Why don't you try to present gingerbread ravioli like a pasta dish? Here the idea (and take a look at the pics). With a few drops of green food colouring make green coconut flakes (to represent chopped herbs). Roll small pieces of marzipan into little balls and colour them red (to represent cherry tomatoes). Grate white chocolate (to represent parmesan cheese). Put some raspberry jam (tomato sauce) on a pasta plate. Sprinkle some green coconut flakes over sauce. Place some gingerbread raviolie on the plate. Sprinkle with some white chocolate. At last place the marzipan tomatoes around the ravioli. Ready to serve gingerbread ravioli.
-- and now: ENJOY and HAVE FUN.
get the genius kitchen app.
Watch on your iPhone, iPad, Apple TV, Android, Roku, or Fire TV.
Learn More