"This is the recipe my MIL made when I was a child. My SIL, who was a friend from my childhood as well, used to bring these to school for her birthday treats. Our classes always looked forward to 'her' birthday each year! One year I had the privlege of being asked to walk home with her during lunch to help carry them back for the afternoon milk break and birthday treats. Her mom, my future MIL, threw in an extra and said it was for me as a reward for coming with Trudy to help carry them back. After we returned to school, Trudy 'found' someone else she decided she wanted to be her new 'best friend' and decided that she was going to give 'my donut' to 'that' friend instead of me...needless to say, there was no way I was going to let her get away with 'that'! I am sharing this recipe as a result of a request on the boards. This is still the best homemade doughnut recipe that I've come across and I've tried quite a few of them, but always return to this one! Hope you enjoy it as much as my family does... :-)) I've never timed any of the process of making these, so I really don't have a clue. My family also likes to have me cook the center cut-outs as little doughnut balls too. The amount you will get from this recipe will depend on the size of the doughnut cutter(s) you use (I have several sizes). I've never counted; my family begins digging in as soon as they start coming out of the hot grease. I do know that this recipe makes a lot of doughnuts! My MIL has made them for years for the annual family reunion potluck."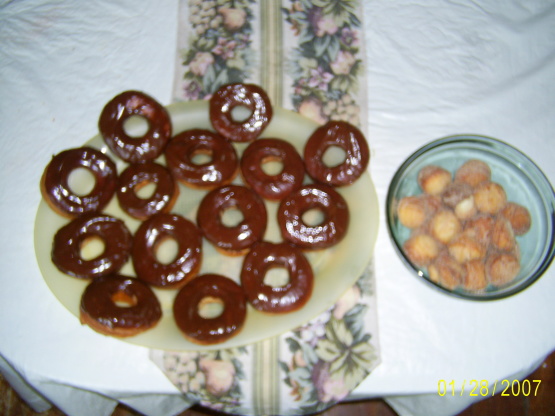 Glazed Doughnuts
1 recipe photo
Directions
Scald milk; cool to lukewarm.
Soften yeast in warm water (and proof by allowing to set for 10 minutes, watching for bubbling to begin to occur); add to milk.
Cream the shortening and sugar together.
Add eggs and beat.
Add salt to milk and yeast mixture.
Alternately add flour and creamed shortening, sugar and eggs mixture.
Stir until smooth.
Cover and let stand until double in bulk.
Roll 1/2 inch thick on lightly floured surface.
Cut and let rise until double in bulk, again.
Fry in deep fat fryer until light brown on each side.
Remove and place on paper towels to absorb excess oil (into the paper towels, rather than the doughnuts).
Change paper towels frequently.
While still warm: Glaze with powdered sugar glaze.
If you prefer, they can be put into a sack with dry powdered sugar, crystal sugar or brown sugar and shaken gently to coat, or frosted with one of your favorite icings and sprinkles or nuts.
When completely cool and glaze or frosting has set, store in an airtight container.
They can also be frozen for later use (eliminate as much air as possible).
If frozen, when ready to serve, remove from freezer, place on microwave-safe dish, cover with wax paper and run on defrost cycle until warmed through.
They will be almost as fresh as when you first made them!
get the genius kitchen app.
Watch on your iPhone, iPad, Apple TV, Roku, or Fire TV.
Learn More