"This is the perfect dessert to have in your back pocket when planning a luncheon or having friends over. The mangoes give the bread a moist texture, and the nuts add the extra crunch needed. The best thing is that it only takes 15 min to prepare! Serve it with vanilla ice cream or cream cheese on top, or even just on its own, and you have quite the impressive dish. It's so good, your friends won't even guess that its gluten free!"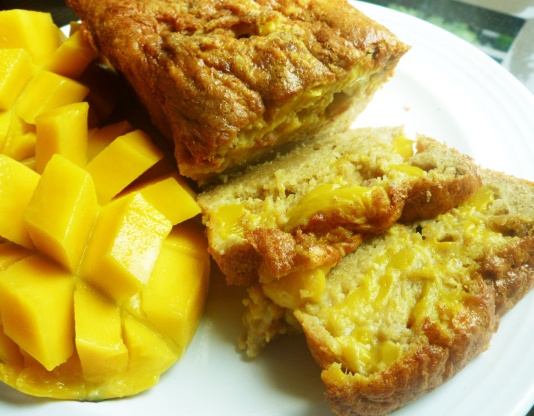 Gluten-Free Moist Mango and Nut Bread
1 recipe photo
Directions
1) Preheat oven to 350 degrees.
2) In a large bowl combine flour, baking powder, salt (and cinnamon if added). Whisk well.
3) In another bowl separate the egg whites from the yolks.
4) With an electric beater (or by hand if you've got it in you) beat the egg whites until stiff.
5) Beat the yolks, adding in the oil, vanilla, and sugar.
6) Pour your wet yolk mixture into the flour and mix well.
7) Add the egg whites to the batter. Folding them in until smooth.
8) Mix in the mangoes and nuts into the batter.
9) Pour into 2 small greased loaf or cake pans.
10) Bake for about 1 hour or until toothpick comes out clean.