"What's your favorite way to eat an oreo cookie? Some of us Celiac's may have forgotten our favourite way ... or tried really hard to forget oreo cookies even exsisted. Well forget no more, you will never have another craving for an oreo cookie. These taste exactly like the real wheat containing oreo cookie. Split these cookies apart and lick the frosting from each side, or dip them in milk, they are so similar! Slip these cookies into your children's lunches for a real treat. They won't feel different from the other kids eating these, infact the other children will definetly be envious of them for once! Note: If you have a cookie stamp, press onto sliced cookies before baking to give a more authentic look to the cookies."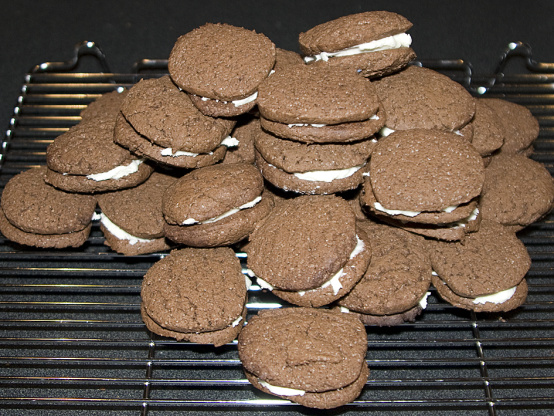 Gluten Free Oreo Cookies
6 recipe photos
Directions
Preheat oven to 350 degrees.
In a medium bowl, whisk together the flour mix, xanthan gum, egg replacer, cocoa, baking powder, baking soda, and salt. Set aside.
In the bowl of the mixer, cream the margarine and sugar until light. Add the egg and vanilla and beat well. (Note: I don't have a heavy duty mixer, so I used a hand held one and I did have alittle trouble with the dough sticking to the beaters. So don't be discouraged if you have to keep pushing the dough off the beaters with a spatula, you aren't doing anything wrong. And don't worry I promise these cookies are well worth the trouble!).
Add the dry ingredients in 3 additions. If the dough becomes too stiff, add the milk as needed.
Shape the dough into two 10"x1-1/2" rolls. Wrap in foil and chill.Chill for about 15-20 minutes.
Cut into 1/8" slices, if you have a cookie stamp, you can at this point press in onto the sliced cookies before baking. Bake these cookies on an UNGREASED cookie sheet for 10 minutes.
Let cool for only a few minutes before removing from the cookie sheet. Cool thoroughly on a rack.
For the filling, combine confectioners' sugar, shortening, vanilla and hot water ( use enough to create a good spreading texture.).
get the genius kitchen app.
Watch on your iPhone, iPad, Apple TV, Roku, or Fire TV.
Learn More