"Ever since receiving the recipe for Egg-Free Oven Pancakes, I've been wanting to try a Gluten-Free version...to see if/how well it worked. I finally got around to it last week. And well, it worked. WELL. I think in part because I used a Gluten-Free box mix that I'd purchased from Gluten Free Saver deal a few weeks back. And it's a stellar Gluten-Free box mix too. I've loved all the King Arthur Gluten-Free flour mixes that I've tried thus far. So here's how it went down...some lemon, some blueberries, couple dashes of cinnamon. End result...delish-icious-ness. (The only Top 8 Allergen in this is eggs. I used rice milk when I made them.) Enjoy!"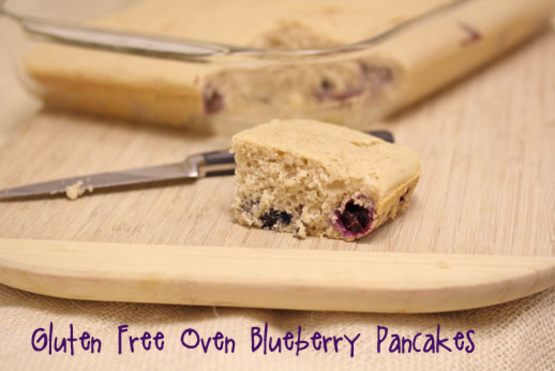 Gluten-Free Oven Blueberry Pancakes
1 recipe photo
Directions
Preheat the oven to 375°F. Grease a 9x13-inch glass baking dish.
Prepare the pancake batter as directed on the box.
Mix in the lemon juice and cinnamon. Fold in the blueberries. Pour in the baking dish. Bake for 20-25 minutes, or until cooked through in the middle. (If you use a larger pan, jelly roll pan -- cooking time will decrease some.).
Slice into squares and serve warm with syrup and butter.