"These are great for those on gluten-free or sugar-free diets. Agave nectar can be consumed by some diabetics so consult physician."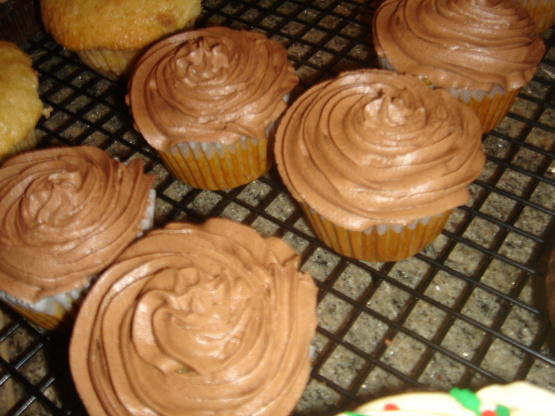 Gluten-Free, Sugar-Free Vegan Vanilla Cupcakes With Chocolate
1 recipe photo
Directions
Cupcakes.
Preheat oven to 325°F; line muffin pan with 9 Liners and fill 3 remaining muffin cups with a little bit of water.
Mix together soy milk, canola oil, vanilla and almond extract and agave nectar.
Add flours, baking powder, baking soda, and salt one by one and mix for 1-2 minutes. Mixture will be thin.
Fill 9 muffin cups approximately 2/3 full. Bake for 20 to 22 minutes until toothpick inserted into center of cupcake comes out clean.
Let cool in pan for 1 hour to allow agave to set.
Frosting.
Mix together margarine, agave, and vanilla until smooth.
Add cocoa powder (sift if necessary).
Add powdered soy milk.
If mixture is too watery, add more powdered soy milk. If too thick, add more agave until desired consistency is reached.
Frost cupcakes and enjoy!