"I suggest placing the cooked fritters in the oven at 200ºF/100ºC to keep them warm while cooking the second batch. If you have a lot of zucchini, please double the ingredients. They can be easily heated in an oven toaster or oven. If you don't want to bother making the yogurt sauce, I think you can eat fritters plain or with gluten-free ketchup. For more heatlhy, gluten-free, low-GI pesco-vegetarian recipes, please visit my blog, www.innerharmonynutrition.com."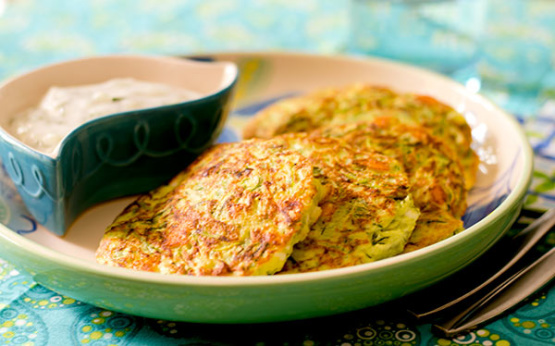 Gluten-Free Turkish Zucchini Fritters (Kabak Mücver)
1 recipe photo
Yogurt sauce

1

cup plain yogurt (regular or Greek cowàs milk yogurt or non-dairy regular or Greek yogurt)
1⁄4 cup cucumber, finely diced

2

tablespoons fresh dill, chopped

1

tablespoon lime juice (from a 1/2 lime)

1

garlic clove, grated (optional)

Zucchini Fritters

2 1⁄2 cups zucchini

4

tablespoons green onions, chopped

2

tablespoons fresh dill, chopped

2

eggs

4

tablespoons gluten-free flour or 4 tablespoons rice flour

1⁄2 teaspoon salt

3

ounces feta cheese, crumbled (I used goat milk feta cheese.)

oil (for cooking)
Directions
Shred zucchini and set aside.
In a small bowl, mix yogurt, cucumber, dill, lime juice, garlic (if used), salt and pepper to make a yogurt sauce. Set aside.
Squeeze water out of the shredded zucchini.
In a bowl, mix zucchini, green onions, dill, eggs, flour and salt. Fold in cheese.
Heat a frying pan, spray oil and pour the zucchini mixture (1/6 of the mixture for each fritter).
Cook each side about 3 minutes or until nicely browned. You need to cook all the fritters in two batches if you don't have a large griddle.
Infuse love and serve with the yogurt sauce.