"I found these muffins from an online site (unfortunately cannot remember the site) but I'll tell you these are very nice muffins that are not overly sweet and have a great nutty flavor. We love these for breakfast with a bit of jelly on top. They are also a great after-school snack."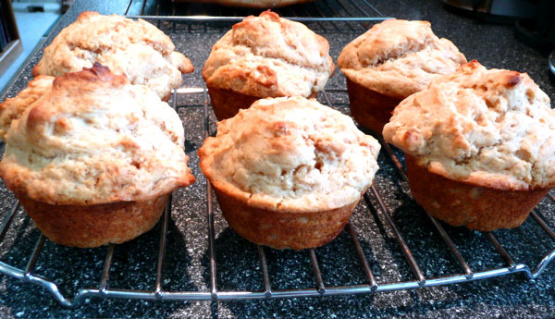 Golden Peanut Butter Muffins
1 recipe photo
Directions
Preheat oven to 400F (200C) and spray muffin tins with non-stick cooking spray.
In a large bowl, stir the flour, brown sugar, baking powder and salt together.
In a medium bowl, with an electric mixer, beat the peanut butter briefly until smooth then beat in a few spoonfuls of the milk.
Beat in the remaining milk, then the melted butter and eggs.
Stir in the chopped peanuts until mixed through.
Add peanut butter mixture into the flour mixture and stir just until blended (do not overmix).
Spoon into muffin tins, filling each cup 3/4ths full.
Bake for 15 minutes or until pick inserted in center comes out clean.
Cool in tins for 5 minutes and then remove to wire rack to cool completely.