"This makes a very beautiful spiral/checkerboard cookies. The taste of these is wonderful too - tender, slightly crumbly, buttery. I got the recipe from a local (singapore) recipe book and made two batches (one spiral and one checkerboard) for Chinese New Year. I will post a pic once the recipe is up. Although these require more work than regular cookies, but it's very worth it, as the results are spectacular! Prep time include chilling time and cook time is 18 minutes per batch."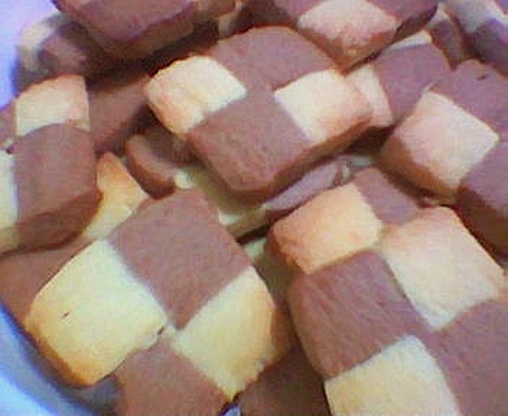 Gorgeous Two-toned Cookies
2 recipe photos
Directions
Dissolve cocoa in hot water.
Set aside to cool.
Beat butter and sugar together in a large bowl.
Add egg and vanilla.
Beat until light and fluffy.
Sift salt, flour and milk powder together.
Fold into butter mixture to form a dough.
Take half of the dough out, place in a separate bowl.
Mix in the cocoa mixture until combined.
Roll out the white dough between plastic wrap until about 1/2 inch thickness.
Do the same for the chocolate dough.
Chill both dough separately for approx 2 hours.
To make checkerboard: Remove dough from fridge.
Cut 2 strips from each dough, measuring 1 inch each.
Wet the sides and tops and'stick' them together to form a checkerboard.
(white strip-chocolate strip, topped with chocolate-white) Wrap the checkerboard log with plastic wrap, pressing it a little to ensure the strips of dough stick together.
Return to fridge for another 1 hour or so.
To make spiral: Try to roll the white and chocolate doughs into equal size.
Moisten the top of the chocolate dough.
Put the white dough onto chocolate one (or vice versa).
Roll up tightly, jelly roll style.
Wrap the log with plastic wrap and return to fridge for 1 hour or so.
Remove cold dough and leave to soften slightly for few minutes.
Cut log into thin slices and place on parchment-lined cookie sheet.
Bake at 175C/350F for 15-18 minutes.