"I looked through all, many similar, but mine enough different I decided it warranted being submitted separately. My granddaughter wrote and asked for the recipe - what recipe? - so I wrote back and told her how I usually made it. But it's a little different now. I wish I'd had some green and red peppers but passed them up at the store. It turned out nice but am hoping the flavors will blend together overnight. I make my Italian meat sauce similarly but use garlic and Italian spices which I don't for this. I used 2 packets of Swanson Flavor Boost, and the editor will not recognize it. It's very concentrated broth and new on the market."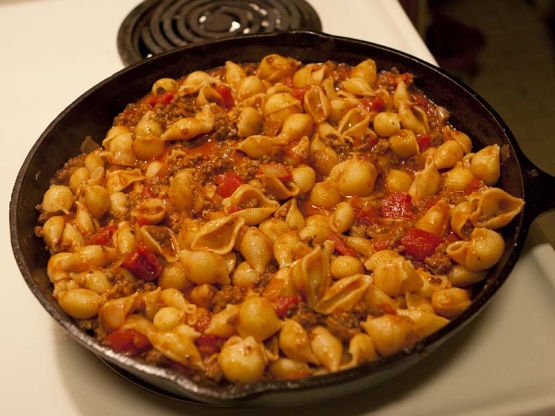 Goulash American Style My Way
2 recipe photos
Directions
Start cooking the pasta shells in 3 quarts of boiling water to which a few drops of salad oil and a little salt were added; stir occasionally.
Cook eleven minutes for well done, drain, don't rinse, set aside.
Next I browned the onions in some margarine and scraped into small dish to set aside until the meat is browned.
Turned up the heat and put in the ground beef, started breaking it up with spatula.
Continued to brown the beef and break up with a little cookie-cutter type chopper with sharp, scalloped teeth (use whatever you prefer as a utensil.
Brown to me is parts are actually a nice brown, not just stirring around until all the pink is gone; it helps with the flavor.
When beef was browned to my satisfaction, put the onions back into the skillet with the browned, broken-up beef.
Added the tomato paste, diced tomatoes and water, stirred on low heat.
Add the flavor booster and did a taste test because it's salty, just right.
To avoid over salting,I didn't use any salt except what I boiled the shells in until I added the booster (it's concentrated).
Add the seasoned salt, seasoned pepper blend, parsley, Worcestershire sauce and cheese.
If it's too thick, add a little more water; if too watery, cook it down while stirring, doesn't take long.
Can be eaten right away, baked in oven, frozen, or made a day ahead.
Add ground pepper to taste when served.