"My Italian grandmother made these all the time, and it was the only way I knew stuffed peppers as a child. All of my aunts and my mother made this recipe and, when my mother became disabled, she taught my father how to make them! Over the years, I was introduced to traditional stuffed peppers with rice and broke with family tradition. However, I find that lately I am craving the peppers of my youth, so I consulted with my aunt and my father's written recipe to recreate this comfort food. Although ground beef is my grandmother's original ingredient, my mother did convert to ground turkey, which works just as well. I have made these twice now in the past week, and they are just as I remember them! They are very nice served over spaghetti or rice."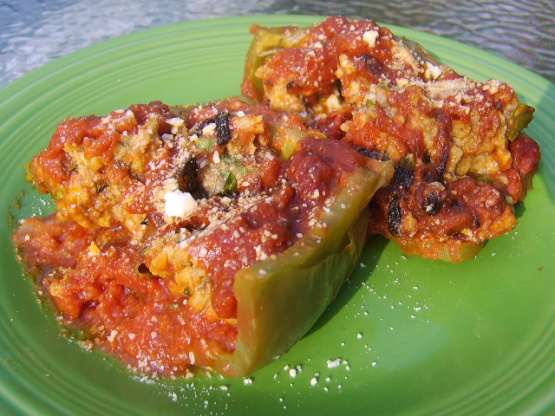 Grandma Perri's Stuffed Peppers
2 recipe photos
Directions
Slice tops off peppers, seed and set aside.
Meanwhile, slowly heat olive oil in large Dutch oven, then add onion and let brown.
While onion browns, mix together ground meat, salt and pepper to taste, garlic, parsley, basil, cheese, eggs, and breadcrumbs. Mix lightly; do not overwork. Divide meat mixture into six portions, gently roll and stuff into peppers.
When onion is brown, add peppers and brown on all sides. After browning, stand peppers upright and pour marinara sauce over them. Simmer for 1 hour on the stove top. When almost done, remove lid and cut each pepper in half lengthwise, then continue cooking until done.
Serve each pepper with some sauce spooned on top and sprinkled with some grated cheese.